Google's Motorola launches its 4.7-inch 'Made in America' Moto X smartphone
New Delhi, Aug 3: Motorola has launched a keenly-anticipated 4.7-inch Moto X smartphone, which comes equipped with a number of impressive features like a 720p AMOLED Display, Touchless Control via Google Now integration, multiple customization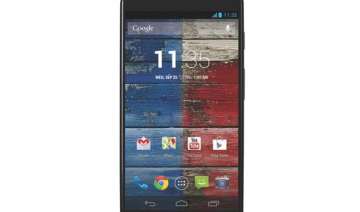 India TV News Desk
August 03, 2013 14:36 IST
New Delhi, Aug 3:
Motorola has launched a keenly-anticipated 4.7-inch Moto X smartphone, which comes equipped with a number of impressive features like a 720p AMOLED Display, Touchless Control via Google Now integration, multiple customization options, and unique camera controls.
The Moto X marks the cellphone maker's first flagship device since Google bought the company in 2012. Although it's not anything revolutionary, there are some cool features that makes it a pretty attractive proposition. It's assembled in the U.S. and will be available in a ridiculous amount of colors. Analysts say the new smartphone by Motorola is aimed at the mass market, not the tech elite or people looking for the cheapest smartphones. Google is looking to capture everyday smartphone buying public.
The device comes with a 720p AMOLED 4.7-inch display, and is powered by a dual-core 1.7GHz Snapdragon S4 Pro processor with quad-core Adreno 320 graphics, 2GB of RAM, and 16 or 32GB of on-board storage. The Moto X does not include microSD card support. Motorola claims that the device's 2,200mAh battery is capable of up to 24 hours of use.
On the front you'll find a 2-megapixel camera, and on the rear is a 10-megapixel shooter, both are likely the same found on Motorola's recently-announced Droid line.
The smartphone runs on Android 4.2.2 Jelly Bean. The UI design does resemble an untouched version of Android, though, with blue icons and the same software navigation button setup found on Google's Nexus devices.
One major interesting feature of Moto X is its Touchless Control. With this smartphone, Google allows you to use your voice not just to search, but to control almost everything that the device can do, from reading your text messages to opening apps, making phone calls, asking about the weather and more. Voice commands work even when you haven't turned the phone on or from across the room or in your pocket.
All you have to do is tell your phone, "OK Google Now …" and then a command. Those who have used Google Glass will surely recognize this command.
The Moto X also responds to the way you handle it. As per an estimation it is believe that people pick up their phones and turn it on between 60 and 100 time a day. It may be to just check time. Google has now introduced a feature called Active Display in the Moto X, where it allows users to see the time and notifications on the sleep screen of the device, fading in and out. Rick Osterloh, senior vice president of product management at Motorola calls this "breathing." Interestingly, the Moto X's 4.7-inch OLED display will only light up the pixels it needs to show time and notifications in Active Display, thus saving lots of battery life.
The camera installed in Moto X responds to gestures. Google calls it "Quick Capture Camera," which will activate your phone's camera if you twist a sleeping phone in the air like a corkscrew. After the camera opens you can then tap anywhere on the screen to take a picture. This significantly reduces the time it usually takes to open up the phone and in turn the camera app. All you have to do is just twist and go.
Another interesting feature is called Moto Assist that for example, lets you detect your speed while driving and read you text messages or let you change music.
The Touchless Control, Active Display and gesture-based actions are governed by a proprietary Motorola/Google system called X8.
Google and Motorola's Moto X will be launching this summer, with the device initially available in the United States though AT&T, Sprint, T-Mobile, Verizon, and US Cellular at the end of August. The 16GB Moto X will be sold for $199 on-contract and the 32GB AT&T model will cost $249.
The worldwide availability is still not announced but the company will launch it soon in near future. All handsets sold in the USA will be assembled stateside, while overseas manufacturing will be used for international sales.