Govt determined to have non-adversarial tax regime: Jaitley
Gandhinagar:  Union Finance Minister Arun Jaitley on Monday said highly adversarial tax regime has scared investors away and the government is determined to have a perfectly non-adversarial tax regime.Speaking at the second day of the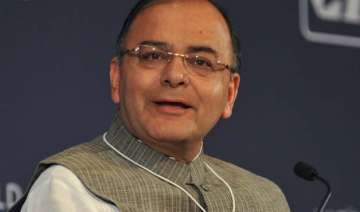 India TV Business Desk
January 12, 2015 13:27 IST
Gandhinagar:  Union Finance Minister Arun Jaitley on Monday said highly adversarial tax regime has scared investors away and the government is determined to have a perfectly non-adversarial tax regime.
Speaking at the second day of the Vibrant Gujarat Global Investors Summit, he said in the last seven months the government has opened up several areas of investments, including insurance.
Earlier, he said the Vibrant Gujarat Global Investors Summit has become the country's "principle economic summit" and welcomed other states organising similar events.
"The more the states organise it, the more their idiom and their attitude in support of investment change.... it's a welcome phenomenon," he said.
The Finance Minister said the recent trend, wherein states like Madhya Pradesh and West Bengal have held such summits while Maharashtra is also mulling one such show, is very heartening and he is glad that such aggressive activities are being undertaken.
The Uttar Pradesh government has also adopted an aggressive posture in attracting investors, with a strong media campaign wooing investors. "I think this has become the principle economic summit as far as India is concerned. Now I think this is where economic activity is happening," Mr. Jaitley said.
Addressing the Vibrant Gujarat Summit 2015, he said, the government is expected to implement a common Goods and Services Tax (GST) across the country in the course of next year.
Jaitley said, "I see the economy growing much faster in months to come. In order to attract investment, direction must be clear, pace of moving in that direction must be reasonably quick."
Taking on those who criticised the government's decision to take the ordinance route in Parliament, Jaitley said, "Should we have waited till the Opposition let Rajya Sabha function? Policy decisions cannot wait for 10 years to be taken."
"Government must always be led by a leader of stature. PM must be decisive, willing to face consequences of his decisions," Jaitley added.
Government priorities, he said, would be to spend more on infrastructure, incentivise expenditure in manufacturing to help boost growth and create more jobs.
Jaitley presented the GST bill to parliament in December, which needs the support of two-thirds of its members as well as ratification by state legislatures.
(With Agency inputs)