Govt not to dilute stake in PSBs at current valuations: Jayant Sinha
New Delhi: The government has no desire to dilute its stake in state-run banks at current valuations, Minister of State for Finance Jayant Sinha has said.He also said it was important to establish India's credibility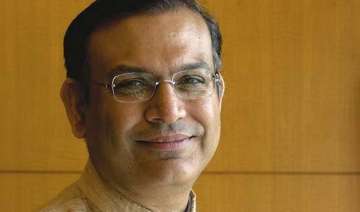 India TV News Desk
January 05, 2015 19:44 IST
New Delhi: The government has no desire to dilute its stake in state-run banks at current valuations, Minister of State for Finance Jayant Sinha has said.
He also said it was important to establish India's credibility in bringing down inflation in the long term and that the central bank chief was the best person to decide on interest rates.
"It is our responsibility to ensure that if we're going to dilute our stake, which is the stake of the people of India, we'll do it at an appropriate valuation. "We're certainly not going to do it at a valuation that will result in too much dilution for the people of India," Minister of State for Finance Jayant Sinha said on the sidelines of the two-day bankers' conclave at the NIBM in Pune.
He, however, declined to give a timeline for the stake sale even though the Union Cabinet recently decided to reduce the Government stake in the 27 PSBs down till 52 per cent as against the current red line of 56 per cent.
"We're absolutely vigilant on that matter. We completely understand how markets operate, how valuations are set and we'll take all of that into account when we take decisions, when we dilute our stake," Sinha, a former private equity fund manager, said.
The government has a Rs 11,200 crore capital infusion budget for the current fiscal and speculation is on if the government will exceed this given the needs of the banks.
"The government is fully committed to supporting and providing all of our financial institutions, whether they are banks, insurance companies, NBFCs, with the capital that they need to be able to provide the liquidity and the credit to the economy which needs to grow," he said.