Govt to sell 10% stake in CIL on Jan 30; to get Rs. 24,000 cr
New Delhi: The government will sell up to 10 per cent stake in state-run Coal India Ltd (CIL) through offer for sale on Friday.The stake sale is expected to mop up around Rs 24,000 crore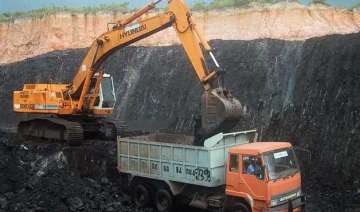 India TV Business Desk
January 28, 2015 19:49 IST
New Delhi: The government will sell up to 10 per cent stake in state-run Coal India Ltd (CIL) through offer for sale on Friday.
The stake sale is expected to mop up around Rs 24,000 crore at current market price.
"The (CIL share) sale shall...commence on January 30 and shall close on the same date at 3.30 pm," CIL said a stock exchange filing. The offer will have 20 per cent reservation for retail investors.
The floor price for the stake sale would be announced tomorrow after the close of market hours.
The government, which owns close to 90 per cent of the coal miner, is selling 31.58 crore shares with an option to sell another 31.58 crore, according to a notice to the exchanges on Wednesday.
The stake sale is part of a government plan to raise Rs 58,425 crore through share sales in public sector units and other firms.
Coal India stake sale is crucial to the government's Budget promise of narrowing the fiscal deficit to 4.1 per cent of GDP in the current fiscal year.
The government has so far raised nearly Rs 1,700 crore through 5 per cent share sale in steel maker SAIL.
Proposed share sale in state-run Oil and Natural Gas Corporation could also significantly boost the government's divestment programme. Oil Minister Dharmendra Pradhan on Wednesday said that the share sale in ONGC is scheduled for this fiscal though falling crude prices pose a challenge.