HP launches new touch-enabled notebooks, PCs in India
New Delhi, July 18: Aiming to strengthen its place in the rapidly expanding PC and mobility devices space, computer maker Hewlett-Packard has launched a series of touch-enabled notebook, two-in-ones and all-in-one PC for the Indian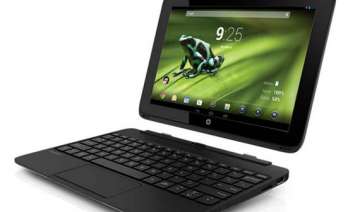 India TV News Desk
July 18, 2013 11:29 IST
New Delhi, July 18:
Aiming to strengthen its place in the rapidly expanding PC and mobility devices space, computer maker Hewlett-Packard has launched a series of touch-enabled notebook, two-in-ones and all-in-one PC for the Indian market.
HP India launched the Ώ] SlateBook x2 and the ΐ] Split x2 Windows 8/Android dual-booting hybrids, the Α] ENVY Rove20 Windows 8-based AIO-tablet PC-hybrid, the Β] Pavilion 11 TouchSmart Windows 8 laptop, the Γ] ENVY TouchSmart 14 Windows 8 ultrabook, and the Δ] Slate21 Android AIO. HP also added the Pavilion TouchSmart 20 and 23 to its Windows 8 AIO range. 
HP SlateBook x2
The 10.1-inch HP SlateBook x2 is a laptop-tablet hybrid which runs on Android 4.2.2 Jelly Bean. Equipped with an NVIDIA Tegra 4 mobile processor, the SlateBook x2 enables people to access the TegraZone app and experience Tegra 4-optimized games. The 1920x1200 pixel LED-backlit display is detachable as a standalone tablet, joined by a magnetic hinge to the keyboard (which has its own battery pack). It has 64 GB of storage and DTS Sound+ Solution for accessing and enjoying photos, music and videos. It weighs in at 1.27 kgs including the keyboard. The HP SlateBook x2 is available in India at a price point of Rs 39,990
HP Split x2
The HP Split x2 is another laptop-tablet hybrid, running Windows 8, and powered by a choice of 3rd Generation Intel Core i3 or i5 processors. The 13.3-inch device notebook has a 1366x768 pixel display, making it easier to view and share content with friends and family and play games. IT features dual-batteries like the SlateBook X2, and Beats Audio.
The HP Split x2 also offers a 2-megapixel HP TrueVision Full HD webcam. The device is priced at Rs 64,990.
HP ENVY Rove20
The HP ENVY Rove20 mobile All-in-One PC is the company's first mobile all-in-one PC, which frees the desktop PC from the desk and allows users to enjoy a shared entertainment experience with a built-in battery and advanced touch technology. Users can transform the tablet from upright position to tabletop for great entertainment experience. Multiplayer games such as Monopoly and JigsWar Puzzle can easily be played when the PC is laid flat.
The 10-point touch enabled 20-inch diagonal IPS widescreen HD+ (1600 x 900) LED backlit display that enables wide viewing angles. Powered by 4th generation Intel Core processors, Intel HD graphics and 10-point touch, the device has been priced at Rs 69,990.
HP Pavilion 11 TouchSmart Notebook
The HP Pavilion 11 TouchSmart Notebook comes with a quad-core processor. It is priced at Rs 31,990.
HP ENVY TouchSmart 14 Ultrabook
HP claims the ENVY TouchSmart 14 Ultrabook has up to nine hours of battery life. With dual speakers, and a subwoofer, the ultrabook is designed for a rich audio experience available on a PC. It costs Rs 64,990.
Multi OS devices
The HP Slate 21 All-in-One offers a large 21.5-inch full HD diagonal reclining IPS touchscreen with wide-viewing angles. The product is priced at Rs 24,990.