IMF cuts global growth forecast for 2015
New Delhi: The International Monetary Fund has lowered its forecast for global economic growth in 2015, with diminished expectations almost everywhere except the U.S., citing persistent weakness in the eurozone and a broad slowdown in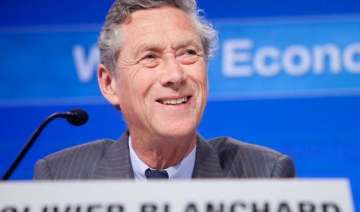 India TV Business Desk
January 20, 2015 13:33 IST
New Delhi: The International Monetary Fund has lowered its forecast for global economic growth in 2015, with diminished expectations almost everywhere except the U.S., citing persistent weakness in the eurozone and a broad slowdown in major emerging markets. The bank also called for governments and central banks to pursue accommodative monetary policies and structural reforms to support growth.
The revision reflects a reassessment of prospects in China, Russia, the euro area and Japan as well as weaker activity in some major oil exporters because of the sharp drop in oil prices.
The world economy will grow by 3.5 per cent for 2015 and 3.7 per cent for 2016, the IMF said in its latest World Economic Outlook report, lowering its forecast by 0.3 percentage points for both years.
"New factors supporting growth - lower oil prices, but also depreciation of euro and yen - are more than offset by persistent negative forces, including the lingering legacies of the crisis and lower potential growth in many countries," Olivier Blanchard, the IMF's chief economist, said in a statement.
The United States was the lone bright spot in an otherwise gloomy report for major economies, with projected growth raised to 3.6 per cent from 3.1 per cent for 2015. The US largely offset prospects of more weakness in the euro area, where only Spain's growth was adjusted upward.
The IMF advised advanced economies to maintain accommodative monetary policies to avoid increases in real interest rates as cheaper oil increases the risk of deflation.
The IMF marked down prospects in the eurozone's three largest economies, Germany, France and Italy, which the fund says is headed into its third consecutive year of recession.  
Projections for emerging economies were also broadly cut back, with the outlook for oil exporters Russia, Nigeria and Saudi Arabia worsening the most.
The report also mentioned that emerging markets may face a risk of capital flight leading to volatile financial markets once the Federal Reserve starts raising interest rates.
Investment growth in China declined in the third quarter of 2014, and leading indicators point to a further slowdown.
For India, the IMF expects a growth of 6.3 per cent this year and 6.5 per cent in 2016 by when it is likely to cross China's projected growth rate. The bank termed the new government's reforms as "promising" but insisted that their implementation is key.
Responding to a question, the IMF official said the effect of Prime Minister Narendra Modi-led government's economic reform would be difficult to predict as these are structural reforms and are growing gradually over the medium term.
According to the latest IMF report, in India, the growth forecast is broadly unchanged, however, the weaker external demand is offset by the boost to the terms of trade from lower oil prices and a pickup in industrial and investment activity after policy reforms.
Lower oil prices will give central banks in emerging economies leeway to delay raising benchmark interest rates, although "macroeconomic policy space to support growth remains limited," the report said.
The plunge in global oil prices, which stands at about 56 percent since June, will increase global output this year between 0.3 per cent to 0.7 per cent, the IMF said. Falling prices will also give countries a chance to reform energy subsidies and taxes, the IMF said.
The report is largely in line with remarks by IMF Managing Director Christine Lagarde last week, in which she said falling oil prices and strong U.S. growth were unlikely to make the IMF more upbeat.
The US Federal Reserve is widely expected to begin raising interest rates some time this year.
(With Agency inputs)