Inflation climbs to 5% in December, IIP at 3.8%
New Delhi: Retail inflation moved up to 5 per cent in December as compared to 4.38 per cent in November.Industrial production grew by 3.8 per cent in November. The street was expecting a strong pick-up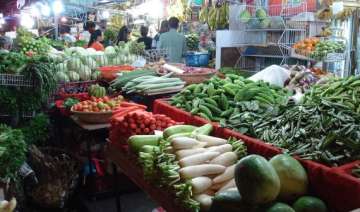 PTI
January 12, 2015 18:11 IST
New Delhi: Retail inflation moved up to 5 per cent in December as compared to 4.38 per cent in November.
Industrial production grew by 3.8 per cent in November. The street was expecting a strong pick-up in industrial activity led by capital goods and consumer durables sector.
"The November month IIP may witness a strong turnaround as manufacturing picks up pace indeed realigning with the multi-month high PMI Manufacturing. The Manufacturing is seen expanding 3.8% (YoY), Electricity Generation to grow 10.3% and another impressive 5.5% mining growth following 5.2% in Oct will guide the headline IIP growth to 4.6%," Sunidhi Institutional Research said in a note on January 12, 2015.
It further said, "The growth in Manufacturing shall be underscored by Capital Goods Segment and Consumer Durable Goods segment where CV's production surged  11% (month on month) Passenger and Utility Vehicles production to have jumped 18% and 10%(month on month) respectively."
The stock markets, too, preferred to adopt a cautious approach and indulged in profit-booking ahead of retail inflation and IIP data.
The Bombay Stock Exchange's Sensex closed up 0.46%, at 27,585.27 points and the Nifty of the National Stock Exchange closed up 38.50 points, at 8323.