Infosys Q4 net down 4.7% q-o-q at Rs 3097 crore; company announces 1:1 bonus
IT services major Infosys has reported 3.5 per cent growth in consolidated net profit to Rs 3,097 crore for the quarter ended March 31.It had posted net profit of Rs 2,992 crore in the January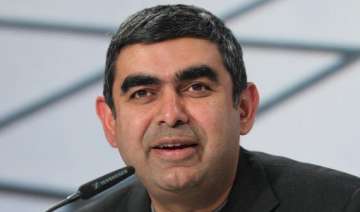 India TV Business Desk
April 24, 2015 16:44 IST
IT services major Infosys has reported 3.5 per cent growth in consolidated net profit to Rs 3,097 crore for the quarter ended March 31.
It had posted net profit of Rs 2,992 crore in the January -March quarter of the 2013-14 fiscal, Infosys said in a BSE filing.
Revenue of the country's second largest IT services firm rose by 4.2 per cent to Rs 13,411 crore in fourth of the last fiscal compared to Rs 12,875 crore in the same quarter of 2013-14, it added.
On a sequential basis, Infosys' net profit fell 4.7 per cent from Rs 3,250 crore in October-December quarter, while revenue declined by 2.8 per cent from Rs 13,796 crore during the same period.
The software company registered a decline in attrition rate at 13.4 percent in Q4 from 23.1 percent in the first quarter.
Pricing continues to be under pressure due to increasing commoditization in the traditional outsourcing business, requiring the company to ramp up productivity through automation, Chief Operating Officer UB Pravin Rao said in a statement.
The company also announced a bonus in the ratio of 1:1.
Reacting to the results, the company scrip fell 4.76 per cent to Rs 2,021.50 apiece on the BSE.
Infosys Managing Director and CEO Vishal Sikka said: "We see the industry going through a fundamental and structural transition. Despite being a challenging quarter, I am
encouraged by the early successes in executing our Renew-New strategy, on a foundation of learning."
In US dollars, Infosys net profit grew 2.3 per cent to $ 498 million in the fourth quarter of 2014-15 from $ 487 million in the year-ago period; revenues rose 3.2 per cent to $ 2.159 billion from $ 2.092 billion a year ago.
Quarter-on-quarter, net profit fell 4.6 per cent from $ 522 million in December quarter, whereas revenue declined 2.6 per cent from $ 2.218 billion during the same period.
Infosys said it expects revenue for 2015-16 fiscal to grow in the range of 10-12 per cent, which is below Nasscom's estimate of 12-14 per cent.
(With Agency inputs)