'Know Your Metro' campaign launched in Delhi
New Delhi: A 'Know Your Metro' campaign has been launched here to make commuters aware of the internal functioning of the system.The campaign was launched at the Central Secretariat Metro station taking 25 women commuters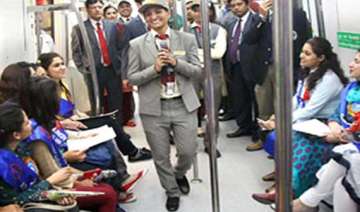 IANS
March 09, 2014 6:39 IST
New Delhi
: A 'Know Your Metro' campaign has been launched here to make commuters aware of the internal functioning of the system.
The campaign was launched at the Central Secretariat Metro station taking 25 women commuters on a tour.
"The women commuters were taken on a tour of the station and shown important components of the system such as the station control and technical rooms," the Delhi Metro said in a statement Friday.
"They were explained about the various aspects of the metro functioning such as the Automatic Fare Collection (AFC), CCTVs, public address systems and tunnel ventilation in detail," it said.
With the purpose of sensitising women commuters about various facilities available for safety, they were also taken inside a train and explained the functioning of the emergency alarms installed inside the metro coaches.
As part of the campaign, the Delhi Metro will invite a group of commuters once every month and apprise them about the functioning of the system.
"This initiative has been taken to ensure that the metro commuters remain aware about the minute details of the metro functioning including its emergency and disaster management mechanisms," the Delhi Metro said.
Every month, the Delhi Metro will invite participants for the campaign through its website. It will also send communications to government and private offices, schools, colleges and other organisations requesting them to send their employees or members for the programme.