Kotak-ING Vysya merger gets shareholders' approval
New Delhi: Private sector Kotak Mahindra Bank has secured its shareholders' approval for amalgamation of Bangalore-based ING Vysya Bank with itself.In November, Kotak Mahindra Bank had announced the buyout of ING Vysya Bank in an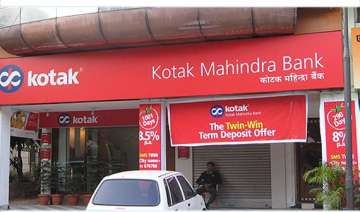 PTI
January 08, 2015 15:32 IST
New Delhi: Private sector Kotak Mahindra Bank has secured its shareholders' approval for amalgamation of Bangalore-based ING Vysya Bank with itself.
In November, Kotak Mahindra Bank had announced the buyout of ING Vysya Bank in an all-stock deal valued at Rs 15,000 crore.
The Extraordinary General Meeting of Kotak Mahindra Bank held yesterday approved a share exchange ratio of 725 equity shares of the bank for every 1,000 equity shares of ING Vysya Bank, both companies said in a filing to the BSE.
Following the merger, Kotak Mahindra Bank would become the fourth-largest private sector bank.
The amalgamation was approved by 99.30 per cent in number representing 99.93 per cent in value of the shareholders present, it said.
The approval came amidst protest from ING Vysya Bank employees.
The merger is subject to approval of the Reserve Bank, Competition Commission of India and other such approvals as may be required, it added.
Meanwhile, ING Vysya Bank's Managing Director and CEO Shailendra Bhandari said, "I am very pleased with today's vote approving our pending merger and the continued confidence and support we've received from our shareholders."
"We are looking forward to completing the merger process and starting a new chapter which paves the way for superior growth of the combined entity," he added.
Deputy CEO and CEO-designate Uday Sareen said, "We are delighted that shareholders have shown overwhelming support by approving the transaction.
"We believe the merged entity will benefit our customers, employees and shareholders by enhancing our long-term value and competitive position."
About hundred odd employees of ING Vysya Bank had yesterday protested against its merger with Kotak Mahindra Bank on a day when the two lenders sought approvals from their respective shareholders for the Rs 15,000 crore deal.
All India ING Vysya Bank Employees' Union General Secretary K J Ramakrishna Reddy had yesterday said, "We participated in the meeting. We have clearly told them that this bank should be merged with a nationalised bank. There is no point in going and merging with Kotak Mahindra Bank."
Unions are demanding a tripartite agreement with Kotak Mahindra Bank, Reddy said, adding that agitation would continue if their demands are not met.
S A Sridhar of ING Vysya Bank Officers' Association said "... When a tripartite agreement is being asked to take care of the employees, why are they shying away from such an agreement? This is the big question that is coming. Are they going to back-stab us in future?"
All-India ING Vysya Bank Employees Union and All-India ING Vysya Bank Officers Association together represent 35 percent of the lender's over 10,000 employees.