KTM 390 domestic delivery from September end: Bajaj Auto
New Delhi: Bajaj Auto has said it will commence the domestic delivery of its mid-size sports bike KTM 390 Duke by end of September.The city-based auto-maker launched the premium segment bike, priced at Rs 1.80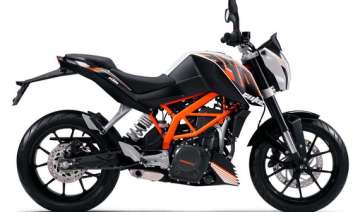 PTI
August 18, 2013 13:04 IST
New Delhi:
Bajaj Auto has said it will commence the domestic delivery of its mid-size sports bike KTM 390 Duke by end of September.
The city-based auto-maker launched the premium segment bike, priced at Rs 1.80 lakh, in June.
"KTM 390 Duke bike domestic delivery will begin from the last week of September," Bajaj Auto vice president (probiking) Amit Nandi said.
Nandi said that currently there is 90-day waiting period for the KTM 390. "So far the company has received 1,500 bookings since its launch," he added.
The bike, conceived, designed and developed at the Chakan plant, is the third offering from the KTM portfolio.
Bajaj holds nearly 48 per cent stake in KTM of Austria and the joint venture plans to produce 2 lakh units by 2017 of which one lakh will roll out from the Chakan plant and the rest from the Austrian facility.
KTM sold 1.07 lakh bikes last year globally. Nandi said all the KTM 390 bikes produced so far have been shipped to KTM headquarters in Austria, from where they will go to the dealers.
The company exports around 25,000-30,000 KTM bikes annually from the Chakan plant to the US and European markets.
Asked whether Bajaj Auto is mulling any hike in the KTM 390 price, Nandi said it was not in the offing as of now.