Flipkart to launch Moto X in India on March 19: Reports
New Delhi: Flipkart, which exclusively launched Motorola Moto G in India, has said that it will soon launch Moto X, a flagship Android smartphone developed and manufactured by Motorola Mobility, in the Indian market.The company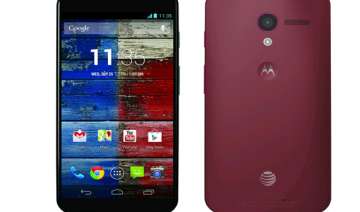 India TV News Desk
March 13, 2014 16:09 IST
New Delhi:
Flipkart, which exclusively launched Motorola Moto G in India, has said that it will soon launch Moto X, a flagship Android smartphone developed and manufactured by Motorola Mobility, in the Indian market.
The company confirmed this through Twitter saying that the Moto X (4G LTE enabled) will go on sale at the website along with exciting launch day offers. Media reports suggest the launch date to be March 19.   
The Moto X, launched in August last year, was the first Motorola smartphone after Google had acquired the company. The device runs a stock Android OS, and lots of customization for users that has made the device stand out in the crowd. 
The Moto X comes with a 4.7-inch HD (1280×720 pixels) display with a pixel density of 312ppi and is powered by a Snapdragon S4 dual-core SoC clocked at 1.7GHz and paired with 2GB of RAM.  
The device sports a 10-megapixel rear camera, 2-megapixel front camera, 16GB/32GB internal storage options, and a 2,220mAh battery. On the software front it was initially offered with Android 4.2.2 Jelly Bean, but is upgradable to 4.4 KitKat. 
A stand-out feature of Moto X is 'Touchless Control' which allows consumer to use voice-command to text message, email, set notifications/remainders, check game-scores and perform more operations using 'always-active' micro phone. He needs to say 'OK Google Now' to open the phone. 
The smartphone also offers 'Quick-Capture' feature wherein a user can launch the camera in a matter of few seconds just by flipping the device twice horizontally and start snapping pictures in less time. 
Initially, the phone was launched in the US for $579 (Rs. 35,000 approximately), but the price was recently slashed to $399 (Rs. 24,000 approximately). The device is expected to cost around the Rs. 28,000 mark.