Incentivise retail investors to enter capital markets: Parekh
Mumbai: Pressing the need to incentivise retail investors to enter domestic capital markets, industry leader Deepak Parekh today called for cutting down the dominance of foreign institutions whom he likened to big 'party-hoppers'."We have to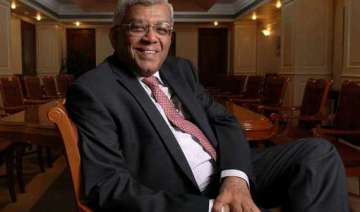 PTI
June 12, 2014 23:11 IST
Mumbai:
Pressing the need to incentivise retail investors to enter domestic capital markets, industry leader Deepak Parekh today called for cutting down the dominance of foreign institutions whom he likened to big 'party-hoppers'.
"We have to incentivise and encourage retail investors to enter our capital market because it cannot be dominated by foreign institutions," HDFC Chairman Parekh said in a BFSI conference organised by SBI Cap Securities here today.
He said although FIIs (Foreign Institutional Investors) have invested USD 15.9 billion in equity and debt in India this year, they are big party-hoppers.  "If they don't like your music and if they don't like the drinks being served, they will find another party to hopon to really quickly," he said.According to Parekh, retail investors are still hesitant and it is unfortunate that they enter markets on the highs, instead of investing on the lows.  He said with the prediction of lower than normal monsoon this year, agricultural growth is going to be challenging.
"The bigger concern is the impact of inflation, and food prices in particular. Unless there is a willingness to change the supply chain management, food inflation is unlikely to come down," Parekh said.
Pitching for the need to have more private warehousing and cold storage facilities, he called for dismantling of APMC (agricultural produce market committee) laws.  The Food Corporation of India needs a complete overhaul, as it remains a huge, unwieldy white elephant which is inefficient, with no accountability whatsoever, he said.  "For years, FCI has been run as a 'Babu Neta' fiefdom," Parekh alleged.
He said the country needs to move towards market-based pricing of energy requirements.
Parekh on the occasion also warned of increased activity and volatility in the currency and bond markets going ahead.
"Now the 4 major central banks i.e. the Fed, Bank of England, ECB and the Bank of Japan are likely to show policy divergences. The Fed and BoE are expected to slowly start raising interest rates, while the ECB and Bank of Japan are likely to continue easing. So, one is going to see increased activity and volatility in the currency and bond markets," Parekh said.
Talking about the creation of National Asset Management Company, suggested recently, to deal with bad loan situation, Parekh said there were deeper-seated issues that need to be addressed first.
He said there was a need to encourage more private equity players to pick up distressed assets.  On issuance of bank licences to corporates, he said, "I think it is high time the RBI clearly articulates its view on whether corporate houses should be allowed to set up banks or not."