India, Saudi Arabia to deepen energy partnership
New Delhi: With the strengthening of strategic ties, India and Saudi Arabia seek to transform the "buyer-seller" relationship in the oil sector to one of deeper partnership focussing on investments and joint ventures in third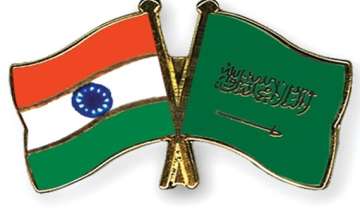 IANS
March 09, 2014 23:49 IST
New Delhi:
With the strengthening of strategic ties, India and Saudi Arabia seek to transform the "buyer-seller" relationship in the oil sector to one of deeper partnership focussing on investments and joint ventures in third countries.
The recent visit of Saudi Arabia's Crown Prince Salman bin Abdulaziz Al Saud to New Delhi boosted strategic ties and the two countries agreed to explore ways and means to transform their buyer-seller relationship.
Saudi Arabia is India's fourth largest trading partner at $43.78 billion in fiscal 2012-13. In the April-November period of the current fiscal, the two-way trade was $32.7 billion. Imports of crude by India form a major part of this trade. Almost one-fifth of India's oil imports come from Saudi Arabia.
However, investment flows between the two countries have been far below their potential.
According to data available with India's external affairs ministry, total Saudi investments in India were $41.08 million between April 2000 and September 2013. Unofficial estimates put the figure close to $1 billion as the majority of investments are done in the name of companies from Mauritius and Dubai.
Talking to IANS, Saudi-India Joint Business Council chairman Kamel S Almunajjed said these investment figures are set to change dramatically in the coming years as stronger strategic relations will boost investors' confidence. Saudi Arabia is sitting on a huge investible pile of over $500 billion, according to reports of various international agencies.
Almunajjed said India is now on the top of the Saudi investors' list as the prospects of returns in Asia's third largest economy are much better than from Western countries like the US and those in Europe, a traditional investment destination for the Gulf investors.
India and Saudi Arabia signed a memorandum of understanding on defence cooperation during Prince Salman's official visit to India Feb 26-28.
"The two sides agreed to explore ways and means to transform the buyer-seller relationship in the energy-sector to one of deeper partnership focussing on investment and joint ventures bilaterally and also in third countries," a joint statement issued by the Indian and Saudi governments said.
India and Saudi Arabia have agreed to set up a $750 million joint fund to facilitate investments. Though announced during Prime Minister Manmohan Singh's visit to Riyadh in 2010, the fund is, however, yet to be created.
Anil Wadhwa, secretary (East) in India's external affairs ministry, told IANS that the fund has not been denationalized due to confusion over the capital gains tax and other issues.
Wadhwa, however, expressed the hope that the fund will be denationalized soon as the two countries have agreed to give it priority.
The fund is proposed to be set up jointly by the Public Investment Fund of Saudi Arabia and India's Infrastructure Development Finance Corporation. It will be focussed on channelising Saudi investments into Indian infrastructure projects and promoting joint  exploration and production of hydrocarbons.
Wadhwa said the confusion over the capital gains tax issue has been addressed and the two countries would soon decide on a chief executive to pave the way for operationalizing the fund.