Lenovo announces its K80 with 4 GB of RAM
Lenovo has announced its all new mid-ranger, the K80, in India that pretty nifty hardware and software features. It is priced at CNY 1,799 (approximately Rs 18,500); however, there is not information about its India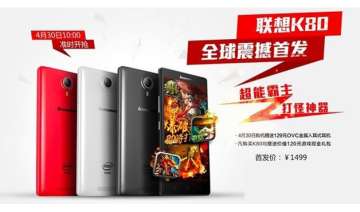 India TV News Desk
April 24, 2015 17:21 IST
Lenovo has announced its all new mid-ranger, the K80, in India that pretty nifty hardware and software features. It is priced at CNY 1,799 (approximately Rs 18,500); however, there is not information about its India launch.
The launch comes on the heels of ASUS announcing is feature-packed Zenfone 2 smartphone.
The highlight of Lenovo K80 is that it packs 4GB of RAM and a humongous 4000mAh battery.
The new 4G K80 features a 5.5-inch 1080p display and is powered by a 1.8 GHz Intel Atom 64-bit processor. It sports a 13-megapixel camera with optical image stabilization and runs Android Lollipop. The phone comes in three colours - black, silver and red. The handset comes with 64GB of internal storage space.
The handset will be available in two variants: standard K80 with 2 GB of RAM and 32 GB of internal storage and the premium one with 4 GB of RAM and 64 GB of internal storage. The 2GB version costs CNY 1,499 (around Rs 15,400).