LG launches G2 with 5.2-inch full-HD display, 2.26GHz Snapdragon 800 processor
New Delhi, Aug 9: At a New York press conference, LG took the wraps off the LG G2, its newest flagship handset. The device, which will be available gradually introduced in various markets worldwide in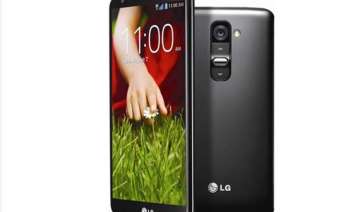 India TV News Desk
August 09, 2013 6:18 IST
New Delhi, Aug 9:
At a New York press conference, LG took the wraps off the LG G2, its newest flagship handset. The device, which will be available gradually introduced in various markets worldwide in the coming months, will compete with Samsung Galaxy S4 as well as the upcoming Samsung Galaxy Note III and the next iPhone.
LG G2 comes with a 5.2-inch full-HD (1080x1920) display, offering an impressive 423 pixels-per-inch (PPI). It is powered by Qualcomm's quad-core Snapdragon 800 processor capable of delivering speeds up to 2.26GHz. The device comes with 2GB RAM and offers 16GB and 32GB storage options. On paper this is even more powerful than the octa-core processor found in Galaxy S4 sold in India.
One of the striking features of G2 is the placement of power and volume buttons. Unlike the traditional smartphones, G2 has these buttons under the main camera module on the back cover. According to LG the rear key concept was introduced because it found that users feel uncomfortable in reaching out to side buttons while using big phones. It also comes with bezels as thin as 2.65mm.
On the rear, the LG G2 has a 13.0-megapixel camera while on the front the device has an Optical Image Stabilisation 2.1-megapixel shooter. The smartphone runs on Android Jelly Bean 4.2.2 and is powered by a 3,000mAh battery. LG G2 measures 138.5 x 70.9 x 8.9mm and will be available in Black and White colour options.
"Our definition of innovation today is technology that truly resonates with consumers. We have always listened to and learned from consumers in pursuit of innovation. We took these insights to new heights in developing LG G2, the most exciting and ambitious mobile phone in our company's history," said Dr Jong-seok Park, president and CEO of the LG Electronics Mobile Communications.
The LG G2 will be rolled out in over 130 wireless carriers in the next eight weeks starting in South Korea followed by North America, Europe and other key markets.
LG G2 comes with really interesting features like Answer Me, Plug & Pop, Text Link, Slide Aside, and a Guest Mode.     
G2's Answer Me function automatically lowers the ringer volume of an incoming call if it senses the handset is being picked up, and it'll also answer the call when you hold the phone against your face.
There's also QuickRemote (seen in the Optimus G Pro), that allows users to use G2 as a remote for other devices like TVs via an IR blaster on the top edge. Interestingly, you can program in multiple devices and merge them into one virtual universal remote. There is also a Guest Mode which is a privacy protection setting that launches when a guest unlocks your phone by drawing a different pattern than your own.
In addition, Plug & Pop recommends options or related features to choose from when the earphone or USB cable is detected. Also the Text Link option allows information embedded in text messages to be selected and easily saved in a memo or calendar and searched on a map or the Internet.
As a answer to Samsung S View, LG is offering its users Quick Window cases – a flip cover that protects the smartphone from scratches – covering both the screen and the rear. . It features a special cutout in the middle of the top portion of the case in order to provide access to the screen.
Key specs
5.2-inch full-HD display
2.26GHz quad-core Qualcomm Snapdragon 800 processor
2GB RAM
16GB/ 32GB internal storage
13.0-megapixel rear camera
2.1-megapixel front camera
Android 4.2.2 Jelly Bean
138.5 x 70.9 x 8.9mm
3,000mAh battery.