Make in India concept to change people's mindset: Nirmala Sitharaman
Mangaluru: Prime Minister Narendra Modi's 'Make in India' campaign was aimed at changing the mindset of the people to tap their entrepreneurial potential, Commerce and Industry Minister Nirmala Sitharaman has said."The campaign will be successful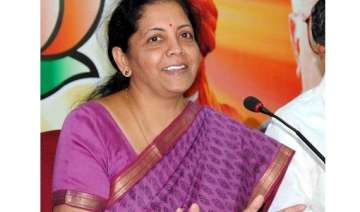 PTI
January 04, 2015 17:28 IST
Mangaluru: Prime Minister Narendra Modi's 'Make in India' campaign was aimed at changing the mindset of the people to tap their entrepreneurial potential, Commerce and Industry Minister Nirmala Sitharaman has said.
"The campaign will be successful only if there is effective co-ordination between the Centre and state governments," she said delivering a speech on 'Commerce policy for the future of India' at a programme organised by the Mangaluru Initiative for Nationalist Dialogue (MIND) at Sangha Niketan on Saturday evening.
She said that state governments and the corporate sector were important stake holders in improving the country's growth rate. The revamp of the Planning Commission and formation of 'NITI Ayog' was being criticised without studying facts, she added.