Mallya Appeals To Kingfisher Staff, Five Flights cancelled
Mumbai/New Delhi, Apr 2:  At least five Kingfisher Airlines flights out of Mumbai and Delhi were cancelled today as a section of staff did not report for duty to demand immediate payment of salary and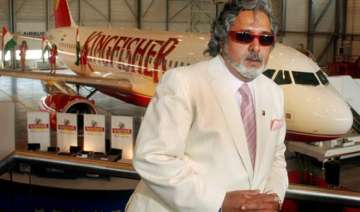 PTI
April 02, 2012 16:22 IST
Mumbai/New Delhi, Apr 2: 
At least five Kingfisher Airlines flights out of Mumbai and Delhi were cancelled today as a section of staff did not report for duty to demand immediate payment of salary and allowance backlog.  
As some pilots and other staff did not report for work to press for their demands, a meeting between the protestors and the airline's top management was urgently convened at a hotel in suburban Mumbai to resolve the situation.  
While flight information display boards in Delhi showed that Kingfisher's services to Dehradun, Shimla and Chandigarh were cancelled, services from Mumbai to Bhuj and Jamnagar were also cancelled, airport sources said.
Airline sources said Kingfisher promoter Vijay Mallya has written a letter to all employees promising them that all junior staff, including ground handlers and security personnel, would be paid their dues before April 4, while all pilots and engineers would be paid on April 9 and 10.  
The bank accounts of the cash-strapped airline, which were frozen by tax authorities for non-payment of taxes and other charges, were unfrozen on Sunday, after Kingfisher paid Rs 64 crore to them.
The debt-laden carrier has terminated operations to 28 of its 56 destinations over the past few days and asked about 40 -50 per cent of its staff to stay at home till further orders.  
However, it had said it was not laying off employees as a result of closure of a large number of stations, including the metros of Kolkata and Hyderabad.
In a statement last week, it had said it was undertaking a "holding plan" till such time it was fully capitalised.  
"Since we could resume operations after getting re-capitalised, most staff at these stations have been asked to stay at home whilst remaining on the company's rolls."
Kingfisher, which has a debt of USD 1.3 billion, is under pressure from its lenders to inject equity.  
In a letter to the employees dated April 1, Mallya said, "I am pleased to advise you that formalities of un-freezing our bank accounts was completed yesterday (March 31) following our payment of Rs 44 crore to the Income Tax and Rs 20 crore to the Service Tax authorities.
"My only focus now is to start paying your seriously overdue salaries. All junior staff will be paid before the Easter that is on April 4th. All pilots and engineers will be paid on April 9th and April 10th," Mallya told the employees who have not been paid since last December.  
Referring to the tough time being faced by the crisis-ridden private carrier, Mallya said "we have managed to keep the lights on in our days of darkness with adversity from every conceivable direction.
"The freezing of our bank accounts and consequent IATA suspension, the resultant loss of the BSP booking platform, the adverse media blitz and the loss of customer confidence are all serious challenges that we have survived."
Beginning November, the Service and Income Tax departments have frozen as many as 40 bank accounts of the airline for non-payment of these levies. While it owes Rs 76 crore to the Service Tax department, the airline has to pay nearly Rs 60 crore to the I-T department in TDS arrears.  
The airline has massively cut down its operations, including shutting down many domestic sectors and completely discontinuing international operations.
From 400 flights a day before the crisis, it is operating just about 100 flights now.  Thanking the employees for their patience, he said they have made great personal sacrifice for the interests of the company and passengers.
"Starting this week, I am going to be personally available at each major station for one day a week to listen to the concerns of all staff. Despite all my other commitments to UB Group companies, I am personally passionate about and committed to your airline.
"Please stand by me. Let's not become fodder for the media and competition to feed off," he said.