Maruti, Hyundai, Tata Motors Trying To Tap Customers On Facebook, Twitter
New Delhi, Jan 23: As use of social media spreads like wild fire, automobile companies are cashing in on the opportunity to tap younger customers and are more than doubling their spending to market products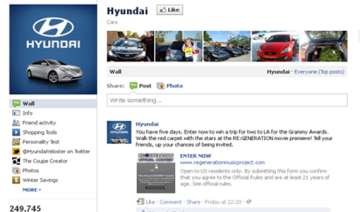 PTI
January 23, 2012 12:55 IST
New Delhi, Jan 23: As use of social media spreads like wild fire, automobile companies are cashing in on the opportunity to tap younger customers and are more than doubling their spending to market products through sites like Facebook and Twitter.

Maruti Suzuki India, Hyundai Motor India Ltd and Tata Motors, the top three volumes player in the Indian automobile market, are leaving no stones unturned to tap the potential of social media which they consider very important for future.

"Earlier, source of information for buying a car used to be friends and family but now increasingly more people are doing it themselves through the social media. Moreover, it is inexpensive and you can get a lot of feedback from customers through it," Maruti Suzuki India (MSI) Chief General Manager (Marketing) Shashank Srivastava told PTI.

Social media can no longer be ignored as it is becoming a part and parcel of smart phones and with increasing internet penetration across India. Therefore, for any marketer it is important to be a part of social media, he added.

"The importance of social media is that increasingly the average age of users is decreasing. In 2005-06 it was 39 years and now it is 34," Srivastava added.

Expressing similar sentiments, Hyundai Motor India Ltd (HMIL) Director Marketing and Sales Arvind Saxena said: "We are getting a lot of young customers, who are active on the social media, these days. They are constantly on Facebook or Twitter exchanging information. If you want to tap them, you need to be on social media."

Tata Motors believes that communication through social networking sites is the immediate barometer of effectiveness in the communication strategy.

"We engage with customers through social media marketing, answer their queries on social networking sites like Facebook, Twitter and so on. Besides the metros, we also received good response from small towns," a Tata Motors spokesperson said.

Market observers also feel that the auto companies are heading towards the right direction with the use of the social media as a marketing tool.

"Last year we saw a big chunk of first time car buyers look for information on the Internet and social media pages before making a purchase decision. It is in this context that we are saying auto makers using e-marketing for example email news letters to better engage this community," Octane Marketing COO and Co-Founder Samarth Saxena said.

As per a recent report 'e-Marketing Outlook in India for 2012' by Octane Marketing, there would be 18 per cent increase this year in the number of Indian marketers, who see the importance of integrating e-mail and social media campaigns.