MCF takeover buzz gathers momentum as Zuari ups stake further
New Delhi, July 11: Mumbai: Zuari Fertilisers on Wednesday hiked its stake to over 13 per cent in UB Group's Mangalore Chemicals & Fertilizers Ltd, within days of rival Deepak Fertilisers buying nearly a 24.5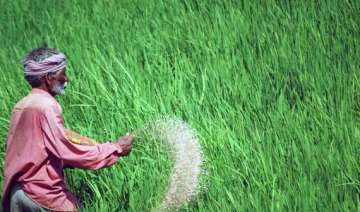 PTI
July 11, 2013 10:06 IST
New Delhi, July 11:
Mumbai: Zuari Fertilisers on Wednesday hiked its stake to over 13 per cent in UB Group's Mangalore Chemicals & Fertilizers Ltd, within days of rival Deepak Fertilisers buying nearly a 24.5 per cent stake in the same company.
While both Zuari and Deepak Fertilisers have so far ruled out being interested in takeover of MCFL, their significant holdings in the company have given rise to speculations about an eventual change of control at the Vijay Mallya-led group firm.
Saroj Poddar-led Zuari had first acquired nearly 10 per cent stake in MCFL for Rs. 44.3 crore in April, while Deepak Fertilisers picked up 24.46 per cent equity for Rs. 179 crore from open market last week.
Both the companies have said that they had acquired these stakes with prior knowledge of the current promoters of MCFL and these were their financial investments.
Zuari acquired on Wednesday 41.43 lakh shares of MCFL for about Rs. 25 crore, taking its stake to over 13 per cent and became the third largest shareholder in the company. Deepak Fertilisers has already overtaken UB Group as the largest stakeholder in MCFL.
When contacted, a senior official of Deepak Fertilisers and Petrochemicals declined to comment.
Officials of Zuari Fertilisers were not immediately available for comment.
UB group's entire 22 per cent holding in the company was pledged with various lenders, including State Bank of India (SBI).
Zuari had first acquired MCFL shares from SBI. UB group has pledged its holding in other group companies also and the lenders began selling those shares following defaults on loans taken by debt-ridden Kingfisher Airlines.
Zuari purchased MCFL shares in today's market at average price of Rs. 61.01 a piece, according to stock exchange data. Total market value of MCFL currently stands at Rs. 731 crore.
Shares in MCFL, on Wednesday, ended at Rs. 61.70 apiece on the BSE, up 10 per cent from the previous close. The stock had touched a 52-week high of Rs. 66.15 on July 2.
Meanwhile, Priyanka Finance and Surabhi Investment & Trading Company offloaded 9 lakh and 7 lakh MCFL shares respectively. The shares were sold for a collective amount of Rs. 9.7 crore.