Media Expo Delhi 2015 to take place from July 24 " 26 at Pragati Maidan
New Delhi: The effectiveness and longevity of traditional media in a digital world holds immense value. Indian companies are increasingly aligning traditional marketing with modern marketing tools. This media mix opens room for new media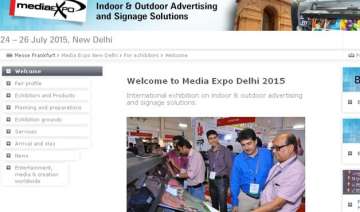 India TV News Desk
April 15, 2015 12:46 IST
New Delhi: The effectiveness and longevity of traditional media in a digital world holds immense value. Indian companies are increasingly aligning traditional marketing with modern marketing tools. This media mix opens room for new media tools, communication channels and generates strong demand for innovation in advertising, signage and print industries.
 
Targeting the innovative marketing needs of the new generation of business and marketing professionals, Media Expo – the country's leading international exhibition on indoor and outdoor advertising and signage solutions is back for its 37th edition to present a specialised business platform for the display and demonstration of new age solutions in signage, point of purchase, advertising, printing, retail & shop displays and promotional material. The trade fair will take place from 24 – 26 July at the Pragati Maidan, New Delhi.
 
An important platform for the diverse communication and marketing needs of ad agencies, media planners, art directors, event managers, brand managers, and business houses, Media Expo has inked several success stories for its exhibitors over the years.
This three-day business fair will once again create a unique platform to exhibit an array of innovative products, services and media solutions. Confirmations from innovation-leading companies such as Colorjet, Roland - Apsom Infotex, Plasto India (sole distributor of LG Hausys India Pvt Ltd in North India), SRF Ltd, Axyz Automation, Esko, Sam Inks is indicative of the quality of the trade fair.
 
Media Expo Delhi this year will also bring spotlight on 3D printing technology. A one of its kind printer, PAT Orator 3.0 will be launched by Prakash Offset at Media Expo Delhi. The PAT Orator 3.0 comes with large volume and high precision printing resolution of 0.1 to 0.05 mm and combines innovative technology and hardware to increase speed, accuracy, print volume and reliability of print.
 
Besides access to the new product launches by various lighting brands, Media Expo Delhi 2015 will also host a one-day conference alongside the exhibition. An informative and interactive platform for the advertising, printing and signage industry, the conference is aimed at educating the printers and the end-users about the possibilities with new printing technologies and marketing solutions.
 
For more information on exhibiting or participating at Media Expo Delhi 2015, please visit www.themediaexpo.com.