Metro companies to be akin to PSUs for land transfer
New Delhi, Aug 9 :The Union cabinet Thursday approved the proposal for treating 50:50 joint ownership metro rail companies like Delhi Metro Rail Corporation at par with central public sector undertakings for transfer of land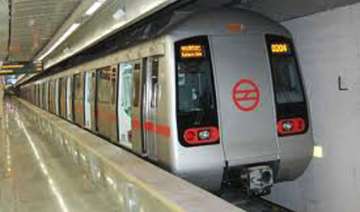 IANS
August 09, 2013 7:08 IST
New Delhi, Aug 9
:The Union cabinet Thursday approved the proposal for treating 50:50 joint ownership metro rail companies like Delhi Metro Rail Corporation at par with central public sector undertakings for transfer of land to facilitate timely completion of projects.
An official release said that the move will allow transfer or alienation of land including defence land to metro rail companies having 50:50 partnership between the central government and the state government concerned on the same pattern and terms and conditions as applicable to public sector undertakings and statutory bodies.
"As per this decision, the on-going and future metro rail projects would be facilitated to get completed within the approved cost and time with subsequent project benefits to the people," the release said.