Microsoft's Spartan browser leaked again; Other features detailed
New Delhi: Microsoft's rumoured lightweight 'Spartan' browser for Windows 10 will include a host of new features not found in rival browsers.A report in the Verge say that Spartan will offer inking support which allows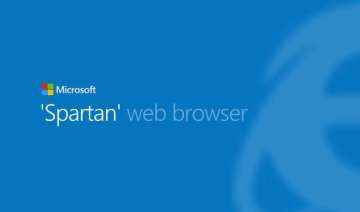 India TV News Desk
January 09, 2015 16:38 IST
New Delhi: Microsoft's rumoured lightweight 'Spartan' browser for Windows 10 will include a host of new features not found in rival browsers.
A report in the Verge say that Spartan will offer inking support which allows Windows 10 users to write notes on a web page via a stylus and then save those notes via OneDrive so they can be seen and shared by others. Multiple users can even write their own notes on the page and share edits and annotations between groups.
The report claims that Spartan will incorporate Microsoft's Cortana digital assistant. It states:
"Microsoft is planning to use Cortana to surface information on flights, hotel bookings, package tracking, and other data within the traditional address bar. If you use Cortana to track a particular flight and start to search for "American Airlines" in the browser address bar, it will automatically display tracked flights and allow Spartan users to view the status of the flight directly."
 
The report further says that Spartan will be released via the Windows Store, but it won't be a universal app, claiming that Microsoft will release a version for Windows 10 desktop users and a separate version for tablets and smartphones. However, both will have the exact features.
The OS will also have some changes to the Start Screen. It will have a new version of touch-friendly Office for Windows and side-by-side apps. The new OS for mobile devices is expected to be available as a free upgrade to all Windows Phone 8 users.
Microsoft is expected to take the wraps off the consumer preview of Windows 10 at an invitation-only event in Redmond on January 21. Analysts were expecting the company to offer the first look at Windows 10 for mobile devices.  The next Windows OS for phones will likely be called Windows Mobile 10.
Spartan will use Microsoft's Chakra JavaScript engine and Microsoft's Trident rendering engine (not WebKit), Mary Jo Foley of Znet has earlier reported.
On Neowin, Brad Sams reported that Spartan runs in a borderless window that allows your content to stretch from edge to edge. This means that there is nothing at the bottom of the window to see and all of the new UI elements are at the top of the browser.