Need more policy clarity on electric vehicles: Tata Motors
New Delhi: Tata Motors has said it is too early for it to firm up plans for commercial production of electric buses as more policy clarity on the segment is needed.It may be noted that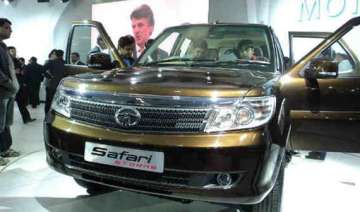 PTI
January 21, 2015 11:11 IST
New Delhi: Tata Motors has said it is too early for it to firm up plans for commercial production of electric buses as more policy clarity on the segment is needed.
It may be noted that the government had announced Rs 1,000-crore sops to boost electric vehicle sales.
"We have been showcasing our electric vehicles for some time now. However, it is too early for us to firm up our plans for a commercial launch of an electric bus, as we don't know how much the manufacturers will get from the money allocated by the government and how much R&D spend can be clawed back," Tata Motors Commercial Vehicles Head and Executive Director Ravi Pisharody said.
He said the company is already into no-polluting vehicles segment with CNG buses and small vehicles.
The government had earmarked Rs 1,000 crore for the National Electric Mobility Mission Plan 2020.
Last week, Tata Motor's rival Ashok Leyland announced the launch of its electric bus Versa by 2017. The 36-seater Versa, which was showcased at the fourth Bus and Special Vehicle expo in Noida in the NCR can go 90 miles in one charge and is a zero emissions vehicle.
"Depending on the regulations, we expect to launch the Versa in the country in the next two years," Ashok Leyland Vice-President for buses T Venkataraman had said. He said the bus would come as a completely built unit from the company's British based arm Optare.
When asked about his budget expectations, Pisharody, who was here to announce the second edition of the company's truck racing in March, said he expects the budget to revive the economy, which would in turn boost commercial vehicles sales.
Noting that the past three years were very bad for the auto industry, he said recent months have seen some pick-up in the CV market and he hopes 2015 to be better than last years.
Already there is a revival in the business sentiment and demand for heavy tonnage trucks are already up, but LCV sales have been suffering, he said.