'New packaging practice helped in lifting of EU ban on mango'
New Delhi: The European Union's decision to lift ban on mango imports from India is a recognition of inspection process and new packaging practice now adopted by exporters, industry body FIEO said Tuesday."The new procedure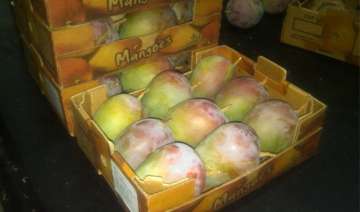 PTI
January 21, 2015 7:53 IST
New Delhi: The European Union's decision to lift ban on mango imports from India is a recognition of inspection process and new packaging practice now adopted by exporters, industry body FIEO said Tuesday.
"The new procedure requiring export of mangoes only through pack houses certified by APEDA under the guidance of the plant quarantine authorities coupled with the assistance given by many of India's trading partners in EU resolved the matter quickly," Federation of Indian Exports Organisations (FIEO) President M Rafeeque Ahmed said.
The European Union (EU) today decided to lift a ban on the import of mangoes from India after the country made improvements in plant health controls and certification system, clearing the way for them to return to the 28-member bloc.
"This (the decision to lift the ban) is a recognition of the internationally bench marked inspection process and packaging practice now adopted by mango exporters from India," FIEO said.
The imposition of ban on mangoes affected India's exports of fresh fruits which declined from USD 307.38 million in April-Nov 2013 to USD 291.43 million in April-Nov 2014, according to FIEO.
Mango exports to EU suffered a major dent and went down from USD 8.9 million in 2013-14 to USD 1.07 million in 2014-15 (April-Sept).
Ahmed expressed hope that soon EU will lift ban on other vegetables namely bitter gourd, taro, egg plant and snake gourd.
The EU accounts for more than 50 per cent of total exports of fruits and vegetables from India. The UK is the main destination, followed by the Netherlands, Germany and Belgium.
The European Union's "temporary ban" came into force on May 1, 2014 and was to remain effective until December 2015 after authorities in Brussels found consignments infested with fruit flies that they feared could damage European salad crops.