No Proposal To Hike Urea Price By 40 PC
New Delhi, Jan 16: The government is not considering any proposal to increase the retail price of urea by 40 per cent, Fertilisers Minister Srikant Jena said today.  In an official statement, "He (Jena) has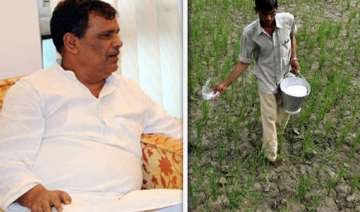 PTI
January 16, 2012 18:41 IST
New Delhi, Jan 16: The government is not considering any proposal to increase the retail price of urea by 40 per cent, Fertilisers Minister Srikant Jena said today. 

In an official statement, "He (Jena) has further clarified that the reports in the media regarding an increase in the price of urea by 40 per cent are factually incorrect, unfounded and baseless and no such proposal is under consideration of the government."

He added that the retail price of urea is notified by the government and it is prevailing at Rs 5,310 per tonne. 

Urea is the only fertiliser product that remains under full price control of the government. In 2010, the government had partially freed phosphatic and potassium fertiliser prices by announcing the Nutrient-Based Subsidy (NBS) Policy. 

Earlier today, Fertiliser Secretary Ajay Bhattacharya told PTI: "As of now, the Fertiliser Ministry is not working on decontrolling the urea sector and there is no such proposal to increase urea prices sharply by 40 per cent."

At present, the Fertiliser Ministry is seeking inter-ministerial comments on the draft NBS policy prepared by the Committee of Secretaries (CoS), which suggested partial freeing of the retail price of urea, he added. 

"Our minister has gone on record against any decontrol of the urea sector," the secretary said.  "There are various views from different ministries on the proposed NBS policy in urea, but the final decision will be taken at the Cabinet level," Bhattacharya said.