Oil Companies Warn Of Severe LPG Crisis
New Delhi, Apr 11: The oil marketing companies have informed the Petroleum and Natural Gas Ministry that the present LPG inventory has come down to a level of about five days in the current month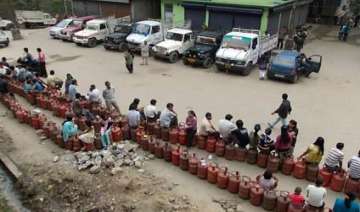 PTI
April 11, 2012 23:20 IST
New Delhi, Apr 11:
The oil marketing companies have informed the Petroleum and Natural Gas Ministry that the present LPG inventory has come down to a level of about five days in the current month on an all-India basis, leading to a difficult  supply position, The Hindu reported.
These companies have said that the planned shutdown by GAIL (India) this month would further aggravate the crisis and it will not be possible for them to augment the supplies through imports within a short notice.
Cities in the North had been faced with a severe supply shortage of LPG cylinders in the last few weeks. The situation was further complicated by the transporters strike in the South, leading to further shortfall.
The OMCs have indicated that things are likely to continue in the coming weeks.
"We have got inputs from the OMCs, where they have pointed to severe shortages due to various reasons, including short supplies in the international markets,'' a senior Ministry official remarked.
Public sector oil companies say, lack of  coastal movement from Reliance facility in Jamnagar from November to January, lack of imports in the first quarter of 2012 due to crisis in international markets; and shutdown at RIL Jamnagar in February and March had led to the cirsis.
The OMCs have also stated that the shutdown of the GAIL's Auraiya LPG plant in March has resulted in a shortfall of about 9-10 tonnes of LPG availability.