Pension, Insurance Scheme For Overseas Indian Workers, Says PM
Jaipur, Jan 8: Fulfilling a long-standing demand, Prime Minister Manmohan Singh today announced a novel pension and life insurance scheme for overseas Indian workers that is expected to benefit over 5 million workers, especially those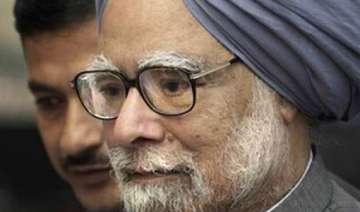 PTI
January 08, 2012 19:36 IST
Jaipur, Jan 8: Fulfilling a long-standing demand, Prime Minister Manmohan Singh today announced a novel pension and life insurance scheme for overseas Indian workers that is expected to benefit over 5 million workers, especially those in the Gulf, and help them save for their return, resettlement and old age.

Addressing the second day of the 10th Pravasi Bharatiya Divas in this Rajasthan capital, Singh also sent a message of comfort to the diaspora saying that his government is "acutely conscious" of the safety and security of Indians living abroad, particularly in Gulf and West Asia.

"I am happy to inform you that the government has decided to introduce and sponsor a new Pension and Life Insurance Fund for overseas Indian workers. The scheme will encourage, enable and assist overseas workers to voluntarily save for their return and resettlement and old age," he told over 1,900 delegates from 60 countries.

The scheme, which was recently cleared by the Cabinet, will also provide a low-cost life insurance cover against natural death, Singh said, adding that this fulfills a "long pending demand of our workers abroad."

Under the scheme, the government will co-contribute Rs 1,000 per annum for all subscribers who contribute between Rs. 1,000 and Rs 12,000 per year. Women overseas workers will enjoy a special additional co-contribution of Rs 1000 a year.  He also said his government has taken a number of initiatives to engage the diaspora like voting rights for Non-Resident Indians.

Welcoming the Chief Guest and Indian-origin Prime Minister of Trinidad and Tobago Kamla Persad Bissessar, Singh heaped praises on the Caribbean nation and said "our shared passion for cricket is well known."

"Which Indian sports fan does not know the names of cricketing legends like Brian Lara or Sonny Ramadhin," Singh noted.

There was chaos at the venue with many delegates either failing to get in the packed main hall at the Birla Auditorium to hear the Prime Minister's address or did so standing as no seats were available.

Singh also said India has told countries of Gulf and West Asia, some of whom have witnessed an upheaval in the recent past, that it has a stake in the peace and stability of this region and asked them to appropriately look after the interests of its citizens in these countries.

In his 18-minute speech, the Prime Minister said the people of India and the government recognize and "greatly value" the important role being played by Indian communities living abroad.

"We believe that the Indian diaspora has much more to contribute to the building of modern India. We propose to facilitate, encourage and promote this engagement," he said.  Referring to his Government's decision to allow Non-Resident Indians to vote in elections, he said pursuant to the law in this regard the Government has issued notifications for registration of overseas Indians under the Representation of People Act, 1950.

"This constitutes the first major step to enable Indians resident abroad to participate in our election processes," he said.

On the economy front, Singh said despite an "adverse international environment", India's economy is expected to grow at 7 per cent this year as against 8.5 per cent last year.

However, he expressed optimism that the rhythm of growth process would be brought back to 9 to 10 per cent in the "medium term.

"Our country is also going through difficult times.

Nonetheless, our economic fundamentals are strong and our constitutional processes robust. We are up to the task of meeting these challenges. Despite an adverse international environment, the Indian economy is expected to grow by about 7 per cent this financial year," Singh said.

"However, we hope to bring back the rhythm of our growth processes to sustain our annual growth rate of 9 to 10 per cent in the medium term," he said.

Touching upon other issues, Singh said his government has attempted sincerely to address the rising expectations of the people on issues of governance and delivery of public services.

"We have attempted sincerely to address the rising expectations of our people with regard to governance and delivery of public services. The Right to Information Act has proved to be a powerful instrument of bringing in transparency in governance," he said in an apparent reference to the anti-corruption campaign.

In its efforts to merge the People of Indian Origin and Overseas Citizen of India schemes, Singh said the government introduced a Bill in this regard by amending the Citizenship Act in the just concluded Parliament session.

"This will rectify some of the anomalies in the schemes and provide for an Overseas Indian Card which will be given to foreign spouses of such card holders as well," the Prime Minister said.

He also said the past decade has been marked by a visible accretion in the influence and impact of the global Indian across the world.  "We have witnessed a steady growth in their numbers, levels of prosperity and their skills," he said.

Singh also said the government was expanding the scope of the Labour Mobility Partnership Agreements to cover not only skilled workers but also students, academics and professionals.

Such Human Resource Mobility Partnership agreements are being negotiated with The Netherlands, France, Australia and the European Union, he said.