Petrol price raised by 70 paise/litre, diesel by 50 paise
New Delhi, Aug 1: Petrol prices have gone up by 88 paise per litre and diesel by 62 paise from Thursday in the city. State oil firms cited rising international crude oil rates as the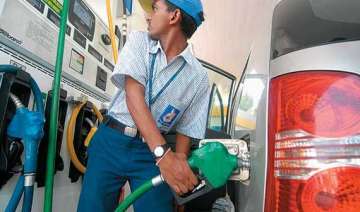 India TV Business Desk
August 01, 2013 10:27 IST
New Delhi, Aug 1:
Petrol prices have gone up by 88 paise per litre and diesel by 62 paise from Thursday in the city. State oil firms cited rising international crude oil rates as the reason to hike prices. Oil firms have raised petrol prices five times since June while diesel rates have been raised by about 50 paise every month since January 17.
The revised prices will come into effect from Wednesday midnight. The actual increase at petrol pumps will be a tad higher due to the incremental increase in state levies.
Oil companies claim that their revenue loss on retail diesel sale is at Rs 9.29 per litre. Although the oil companies have demanded a large diesel price hike, the government decided against it.
Earlier in January, the government freed companies to charge market rates for bulk diesel and empowered them to raise diesel prices by 50 paise every month until pump prices are aligned with international market rates. Oil companies' revenue loss on diesel was only Rs 3.80 per litre in May.
"Since the last price change, the international price of petrol has gone up from $117.19 per barrel to $120.05 per barrel. The rupee-dollar exchange rate however, has marginally appreciated from Rs 60.03 per dollar to 59.49," IOC said.
Oil minister Veerappa Moily defended the decision to significantly raise natural gas prices, days after Supreme Court sent notices following a petition against the decision, and said those opposing the Cabinet's decision do not want domestic output to rise. "Some people do not want the government to take any bold decisions that would reduce dependence on imported oil and gas," he said.
The diesel prices have been seven times since January. In addition, the retailers continue to suffer under-recovery on sale of kerosene of Rs 33.54 per litre and Rs 412 on each cylinder of cooking gas.