Reliance and Partners get approval to invest $4 bn in R-series field in D6 block
New Delhi: Reliance Industries and its partners in KG-D6 block, BP Plc and Niko Resources, have got approval to invest $ 4 billion in R-Series gas field in the block.R-series is a cluster of four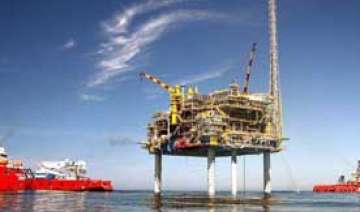 India TV Business Desk
August 29, 2013 17:32 IST
New Delhi:
Reliance Industries and its partners in KG-D6 block, BP Plc and Niko Resources, have got approval to invest $ 4 billion in R-Series gas field in the block.
R-series is a cluster of four discoveries in the block, of which one D-34 has been declared commercially viable.
RIL-BP plan to quickly bring satellite fields in the KG-D6 block to production to help reverse the decline in output. 
The discovery is estimated to hold an in-place reserve of 2.2 trillion cubic feet and recoverable reserves are estimated to be 1.191 trillion cubic feet.
Though the rate of production is not yet known, indications are that it could be close to the combined current production from block - 13 mmscmd.
RIL has so far made 19 gas discoveries and one oil find in the KG-D6 block.