Reliance Industries forays into Kenya realty market
New Delhi, Aug 4: With real estate in East Africa fast emerging as a big opportunity, Reliance Industries, in a joint venture with Delta Corp, has purchased land worth Rs 200 crore in Kenya for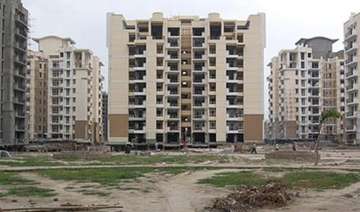 PTI
August 04, 2013 16:02 IST
New Delhi, Aug 4:
With real estate in East Africa fast emerging as a big opportunity, Reliance Industries, in a joint venture with Delta Corp, has purchased land worth Rs 200 crore in Kenya for development of housing and office properties and is already making good profits.
Out of the ten prime plots purchased by this joint venture, Delta Corp East Africa Limited (in which RIL holds 58.8 per cent stake) has completed construction of at least one low-cost residential complex and one office-block project, the other JV partner Delta Corp has said.
Jaydev Mody-led Delta Corp, which is present in the businesses of gaming, entertainment, hospitality and real estate in India, Sri Lanka and Kenya, holds a 39.2 per cent stake in Delta Corp East Africa Ltd (DCEAL), which was set up along with RIL to develop real estate assets in Kenya. Mody and RIL chief Mukesh Ambani are known to be good friends.
"DCEAL has invested approximately Rs 200 crore to acquire 10 prime plots of land in Nairobi with a planned developable area of approximately 1.2 million square feet of commercial and residential assets," Delta Corp said in its latest annual report for 2012-13.
According to RIL's annual report for the same fiscal, DCEAL had total assets of close to Rs 244 crore as on March 31, 2013, while it recorded a turnover of Rs 148 crore and profit after tax of Rs 29 crore in the financial year 2012-13.
"DCEAL has already completed construction of Delta Plains, a mid- to low-cost residential complex at Athi river near the Jomo Kenyatta International Airport. This relatively industrialised area is being considered an upcoming residential hub due to its proximity to both the airport and the city," Delta Corp said.
"This makes it ideally placed for a housing complex that will cater to this demographic," it added.
Delta Corp, which runs offshore casinos in India and is the only listed entity in the country's gaming industry, further said DCEAL has developed a gated complex of 4 office-blocks, Delta Riverside, closer to the central business district (CBD) in Nairobi.
"These are independent, self-sufficient blocks ideal for small to mid-size offices. We have successfully completed and sold these. In addition to the above, DCEAL has successfully completed the sale of the second of the Twin Towers of 'Delta Corner' in the CBD of Westlands," the company said.
RIL has disclosed 'loans and advances' of Rs 65 crore to DCEAL in the financial year 2011-12, but there was no such payments in the latest fiscal, 2012-13.
Its other subsidiaries in Kenya include Gapco Kenya, Transenergy Kenya, Wave Land Developers and Delta Square. According to the global realty consultancy Knight Frank's Wealth Report 2013, the average property prices in Nairobi's high-end estates rose by 10 per cent in 2012. Besides, Nairobi's prime property market rose the highest among Africa cities, and was only followed by Cape Town in South Africa.
Kenya is the fifth largest economy of all African countries, and the largest economy of East Africa. According to World Bank, it is expected to clock an economic growth rate of 5.7 per cent in 2013 and Delta Corp said it sees ample growth opportunities in Kenya, particularly in the real-estate sector in Nairobi.
Additionally, Kenya has a vast tourism industry that draws visitors from all over the world to sample its many national wildlife reserves.