Retail inflation at 25-mth low, IIP expands after four months
New Delhi: Retail inflation easing to a 25-month low of 8.1 percent in February and a slight improvement in industrial growth have raised hopes for a rate cut by the Reserve Bank next month to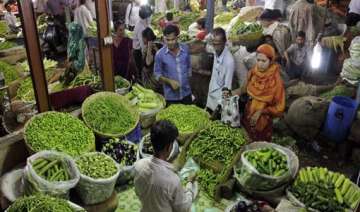 India TV News Desk
March 12, 2014 22:15 IST
New Delhi:
Retail inflation easing to a 25-month low of 8.1 percent in February and a slight improvement in industrial growth have raised hopes for a rate cut by the Reserve Bank next month to boost economic activity.
Industrial output entered positive territory in January with a modest growth of 0.1 percent after contracting for three months in a row.
Encouraged by the improvement in the price situation, India Inc stepped up its demand for a rate cut by the Reserve Bank in its monetary policy scheduled on April 1.
As per Consumer Price Index data released today by the Central Statistics Office, easing of onion and potato prices pulled the retail inflation rate lower in February.
Overall inflation in the food basket, including beverages, slowed to 8.57 percent in February from 9.9 percent in the previous month, according to the data.
"This should spur the RBI to give a predominance to growth and cut interest rates in its forthcoming monetary policy as the negative growth of capital and consumer goods, especially consumer durables, reinforces the view that escalating interest costs are impeding investment revival," CII Director General Chandrajit Banerjee said.
According to Index of Industrial Production (IIP) data, the marginal improvement in factory output was mainly on account of higher power generation and mining sector output, while manufacturing declined.
Prime Minister's Economic Advisory Council Chairman C Rangarajan said, "IIP data is in line with expectations. There is need for considerable pick up in February-March manufacturing activities."
During the 10-month period from April to January of this financial year, industrial output was flat compared with an over 1 percent growth in the same period of 2012-13. In January 2013, factory output grew 2.5 percent.
The contraction in IIP in December was revised to 0.16 percent from the provisional estimate of a 0.6 percent dip.
PHD Chamber of Commerce and Industry President Sharad Jaipuria said, "Since WPI (wholesale price) inflation and CPI inflation are in the softening trend and subsiding month after month, RBI at this juncture should come forward to reduce the policy rates and help the industrial activity to recover at a faster pace."