Rupee's Winning Streak Continues, Up 35 Paise Against Dollar
Mumbai, Jan 18: Continuing its upward journey for the fifth straight day, the rupee jumped 35 paise to close at a fresh two-month high of 50.38/39, on the back of sustained capital inflows amid dollar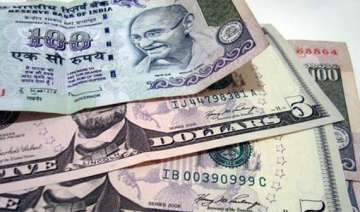 PTI
January 18, 2012 20:28 IST
Mumbai, Jan 18: Continuing its upward journey for the fifth straight day, the rupee jumped 35 paise to close at a fresh two-month high of 50.38/39, on the back of sustained capital inflows amid dollar selling by exporters and some banks.

At the Interbank Foreign Exchange (Forex) market, the domestic currency resumed strong at 50.58/59 a dollar, a level not seen since November 14, 2011.

Increased capital inflows amid dollar selling by exporters and some banks helped the local currency recover to end at 50.38/39, a net gain of 0.69 per cent.

Foreign Institutional Investors (FIIs) pumped in over USD 3 billion in the debt market and USD 838.18 billion in equities in the current month till January 17.

Meanwhile, the BSE benchmark Sensex ended on a flat note, down marginally by 15 points at 16,451.47.

Traders said bearish dollar in global markets also helped the rupee to maintain its upward journey.

The dollar index, a gauge of the US currency against six major currencies, was down by over 0.4 per cent ahead of a key meeting between Greece and its creditors later in the day.

New York crude oil was trading above USD 101 a barrel in European market today.

The rupee premium for the forward dollar ended better on fresh stray paying pressure from banks and corporates.

The benchmark six-month forward dollar premium payable in June ended up at 166-168 paise from Tuesday's close of 164-166 paise and far-forward contracts maturing in December also finished slightly up at 278-280 paise front 277-279 paise.

The RBI has fixed the reference rate for the US dollar at 50.6655 and for the euro at 64.6314.

The rupee continued to rule firm and settled at Rs 77.42/44 against the pound sterling from overnight close of Rs 78.02/04 and also firmed up further against the euro to end at Rs 64.59/61 from Rs 64.83/85 in the previous session.

It too hardened against the Japanese yen to Rs 65.62/64 per 100 yen from last close of Rs 66.08/10.