Rupee At 2 Month High Of 50.73/74 Vs Dollar, Up 64 Paise
Mumbai, Jan 17: The rupee gained a hefty 64 paise today to close at two-month high of 50.73/74 against the US dollar on smart rise in local stocks.Traders said rupee continued its rally for the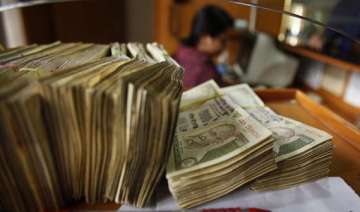 India TV News Desk
January 17, 2012 18:31 IST
Mumbai, Jan 17: The rupee gained a hefty 64 paise today to close at two-month high of 50.73/74 against the US dollar on smart rise in local stocks.

Traders said rupee continued its rally for the fourth day in a row on the back of continued dollar selling by exporters and some banks.

The local currency was also aided by a sharp fall in the dollar overseas.

At the International Foreign Exchange (Forex) market, the domestic unit resumed strong at 51.15/16 a dollar, but immediately hit a low of 51.25 on some dollar demand from importers.

However, it bounced back to a high of 50.70 before concluding at 50.73/74, a net rise of 1.25 per cent.

In straight four days of trading, the rupee has flared up by 117 paise, or 2.25 per cent.

Meanwhile, the BSE benchmark Sensex shot up by nearly 277 points, or 1.71 per cent, continuing a rise for the third trading day in a row.

"After opening higher rupee shot up on positive sentiment in the global markets and better than expected Chinese Q4 GDP data today leading to good recovery in the stock markets," India Forex Advisors CEO Abhishek Goenka said.

"Euro is trading positive after better French bond auction yesterday and better German ZEW Economic Sentiment data today," he added.