Rupee falls sharply by 100 paise to 64.20 against dollar
New Delhi: The Indian rupee opened sharply lower on Monday and traded with over 1 per cent losses. As of 12:48 pm, the rupee was trading at 64.13 against the dollar.Forex dealers said the capital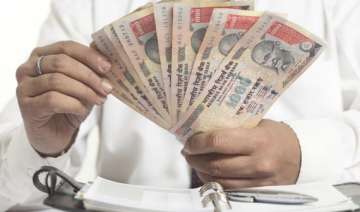 India TV Business Desk
August 26, 2013 12:58 IST
New Delhi:
The Indian rupee opened sharply lower on Monday and traded with over 1 per cent losses. As of 12:48 pm, the rupee was trading at 64.13 against the dollar.
Forex dealers said the capital control measures taken by RBI have heightened the fears of uncertainty in the forex market. The rupee also fell on good demand for the US currency from banks and importers due to rise in crude oil prices.
The market hopes that additional measures from the central bank should stabilise the currency.
During the day, the rupee touched an intra-day low of 63.8050 and an intra-day high of 64.3800. Dealers said the rupee will remain vulnerable to any talk of U.S. tapering, while a worsening fiscal deficit could also weigh on it.
In the global market, the US dollar swung between small gains and losses against major currencies after Federal Reserve officials wrapped up a yearly gathering, appearing ready to start slowing monetary stimulus next month.
Finance Minister P Chidambaram met foreign investors on Saturday to seek suggestions on attracting dollar inflows, according to media reports.
The reports quoted Secretary for Department of Financial Services Rajeev Takru as saying the government could announce some measures in 8-10 days.
India urgently needs to attract capital as foreign institutional investors (FIIs) have sold about $4.2 billion in bonds this year. Adding to concerns, overseas funds are also shedding some of their stock positions, having sold about $750 million in equities over the previous six sessions.
Still, traders remained sceptical about whether India can attract foreign capital to help narrow a record high current account deficit despite the surge in debt yields, as growth is stuck at a decade low while an expected wind down in U.S. monetary stimulus is expected to hit emerging markets.
"FII debt investors in India will come back only if there is currency stability but not because of a little higher interest rate," said Samir Lodha, managing director at QuartArt Market Solutions.
Monday's fall tracked the one-month offshore non-deliverable forward rate, which was being quoted at 64.92 per dollar, compared to the onshore one-month forward rate of 64.75.
Traders also said importer demand for dollars was pressuring the rupee although they expected that to wane through the session, allowing some recovery in the domestic currency.
"Oil companies and importers who missed the late down move in the dollar on Friday are buying dollars today. However, we should see selling from current levels," said Vikas Babu Chittiprolu, a senior foreign exchange dealer with state-run Andhra Bank.
The outlook for the rupee will likely depend on global developments in the near-term, especially by movements in emerging markets, traders added.
(With Agency inputs)