Rupee Rises To 6 Week High Of 51.61 Vs Dollar, Up 29 Paise
Mumbai, Jan 12: The rupee gained 29 paise to touch nearly 6-week high of 51.61/62 against the American currency on heavy foreign funds inflows, particularly to debt markets, amid fresh dollar selling by exporters.Traders said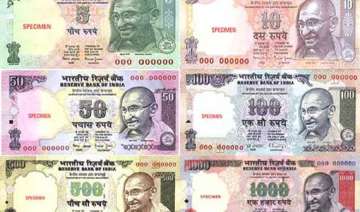 PTI
January 12, 2012 18:35 IST
Mumbai, Jan 12: The rupee gained 29 paise to touch nearly 6-week high of 51.61/62 against the American currency on heavy foreign funds inflows, particularly to debt markets, amid fresh dollar selling by exporters.

Traders said weak dollar overseas aided the rupee's rise, but a fall in local equities restricted the rupee's surge.

At the Interbank Foreign Exchange (Forex) market, the domestic currency resumed at its overnight closing level of 51.90/91 and immediately touched a low of 51.93 on weakness in local stocks. However, it recovered to close at 51.61/62, up 0.56 per cent.

Last time, it had finished at 51.41/42 was on December 5, last year.

Foreign Institutional Investors (FIIs) infused nearly USD 1.9 billion in the debt markets and USD 370.9 million in equities in the current month till January 11, which mainly led to the rupee's rise.

Meanwhile, the BSE benchmark Sensex declined by 138 points apparently due to muted guidence by IT bellwether Infosys for the full year, even though the industrial output numbers are promising.

Led by the recovery in manufacturing output, industrial production grew by 5.9 per cent in November, 2011, after witnessing a contraction in the previous month.

The dollar index was down by nearly 0.2 per cent against a basket of currencies while New York crude oil was trading above USD 102 a barrel in European market today.

The rupee premium for the forward dollar improved further on sustained paying pressure from banks and corporates.

The benchmark six-month forward dollar premium payable in June hardened to 162-164 paise from Wednesday's close of 158-160 paise and far-forward contracts maturing in December too settled higher at 272-274 paise from 265-267 paise.

The RBI has fixed the reference rate for the US dollar at 51.8290 and for the euro at 65.9013.

The rupee continued its upward march and ended up at Rs 79.24/26 against the pound sterling from 79.85/87 yesterday and also remained firm against the euro to settle at Rs 65.81/83 from Rs 65.94/96 previously.

It, however, recovered against the Japanese yen to Rs 67.12/14 per 100 yen from last close of Rs 67.39/41.