Sensex down 171 pints as Rupee hits record low
Mumbai, Jul 8 :  The BSE benchmark Sensex today fell over 171 points dragged by oil and gas and banking stocks, including ONGC, ICICI Bank and HDFC Bank, on rupee hitting a new low against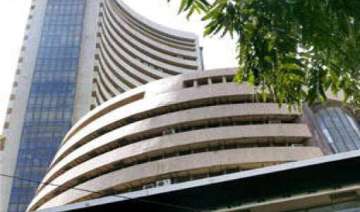 PTI
July 08, 2013 16:59 IST
Mumbai, Jul 8 : 
The BSE benchmark Sensex today fell over 171 points dragged by oil and gas and banking stocks, including ONGC, ICICI Bank and HDFC Bank, on rupee hitting a new low against the dollar spurring concerns that RBI might delay a rate cut and FIIs would pull out funds.
The 30-share index started the day on a sluggish note at 19,233.21 as rupee tanked to all-time low of 61.21 against the dollar in morning trade.
It later recovered a bit during the day on suspected RBI intervention to arrest rupee's slide and closed the day lower by 171.05 points, or 0.88 per cent, at 19,324.77.
Similarly, the wide-based National Stock Exchange index Nifty lost 56.35 points, or 0.96 per cent, to close at 5,811.55. Also, SX40 index, the flagship index of MCX-SX, closed 90.44 points, or 0.78 per cent lower at 11,535.44.
Brokers said a steep fall in rupee against the dollar raised fears of widening fiscal deficit and left little room for the Reserve Bank to cut interest rate in its policy review later this month.
The rupee fell to a record low of 61.21 on capital outflows and demand from oil importers after crude oil in overseas markets climbed to nine-month high.
They said a weakening Asian trend amid concerns that a credit squeeze in China will curb growth, further fuelled the selling pressure in domestic markets.
Out of the 30 BSE index components, 21 stocks closed with losses led by ONGC falling 3.49 per cent to Rs 304.45.
The two heavyweights—Reliance Industries and ICICI Bank—with 16 per cent weightage on the benchmark dropped by 1.35 per cent to Rs 868.30 and 2.21 per cent to Rs 1,027.95.  HDFC Bank fell 0.77 per cent to Rs 660.35.
Sectorally, the oil and gas sector index suffered the most by 1.94 per cent to 8,743.11 followed by PSU index by 1.90 per cent to 5,912.89.