Sensex Down 34 Points, Investors Fear Poor Q3 Numbers
Mumbai, Jan 9: The BSE benchmark index Sensex today closed lower by a moderate 34 points at 15,814.72 on concerns of investors over slowing economic growth and on cautious sentiments ahead of the third quarter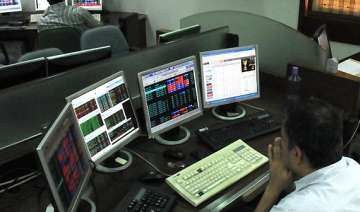 PTI
January 09, 2012 19:01 IST
Mumbai, Jan 9: The BSE benchmark index Sensex today closed lower by a moderate 34 points at 15,814.72 on concerns of investors over slowing economic growth and on cautious sentiments ahead of the third quarter earnings season. 

The 30-share Sensex at one point touched a low of 15,678.30, down by over 170 points, on weakness in Asian stocks. It, however, recovered a major part of losses in the late afternoon trade.

The barometer finally settled at 15,814.72, lower by 34.08 points from its last close.

According to brokers, the market seemed to be in a consolidation phase near 16,000-level before making any move either on the positive side or the negative side. 

They added market sentiment was weighed down possibility of disappointing third quarter results by corporates following slowdown in economic growth due to high borrowing costs. 

"Cautious sentiments prevailed ahead of Q3 of FY 2012 results which is commencing from January 12. Volatile session ensued in the last hour as Sensex alternated between positive and negative territory before finally closing on a flat note," Shanu Goel, Research Analyst, Bonanza Portfolio said.  Infosys and HDFC are scheduled to announce their third quarter results on January 12.

Industrial production numbers for November will come on the the same day.  Brokers said investor sentiment was weighed down by Prime Minister Manmohan Singh's statement yesterday that the country was passing through difficult times and the economic growth in the current fiscal could be 7 per cent down from 8.5 per cent a year ago.

Singh had also exuded the confidence that growth rate in the coming years would go up to 9-10 per cent as the "economic fundamentals are strong and ...consittutional processes are robust as also steps taken to control inflation are producing results and there has been some improvement". 

Refinery and auto stocks attracted profit-booking while power, realty and capital goods stocks were in keen demand.  Broader Nifty of BSE also softened by 4.10 points or 0.09 per cent to 4,742.80.

Asian stocks ended mixed on renewed worries over the European sovereign debt problems. Key indices from Singapore, South Korea and Taiwan closed in the red while from China Hong Kong closed in the green.

European markets, which resumed higher, fell back and were trading lower in their afternoon deals. The CAC, the DAX and the FTSE were quoting down between 0.2 pct and 0.5 pct.  Out of the 30 Sensex stocks, 16 finished in the red.

Bharti Airtel was the top Sesex loser at 2.93 per cent after reports said the government planned to impose penalties on five mobile phone companies for allegedly understating revenues during 2006-07 and 2007-08. 

Other major losers were SBI (1.92 per cent), Coal India (1.59 per cent), Tata Motors (1.52 per cent), Bajaj Auto (1.49 per cent), RIL (1.08 per cent), Wipro (1.02 per cent) and HUL (0.86 per cent).

BHEL rose by 3.15 per cent followed by Jindal Steel at 2.88 per cent, Cipla 2.50 per cent , Maruti Suzuki 1.80 per cent, Tata Power 1.69 per cent.

The total market breadth was positive as 1,638 scrips ended with gains while 1,080 scrips finished in losses. The total turnover was Rs 1,986.31 crore.