Sensex jumps by 318 points; Nifty crosses 8,300 level
Mumbai: The benchmark BSE Sensex rose by over 318 on Friday on buying in banking, IT and oil stocks by funds and retail investors amid a mixed trend in Asian markets.At 10:59 am, the 30-share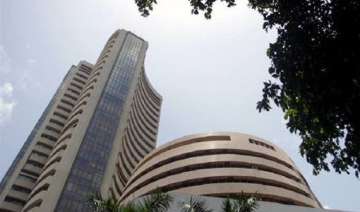 India TV News Desk
January 02, 2015 10:56 IST
Mumbai: The benchmark BSE Sensex rose by over 318 on Friday on buying in banking, IT and oil stocks by funds and retail investors amid a mixed trend in Asian markets.
At 10:59 am, the 30-share index rose by 318.07 points, or 1.16 per cent up, to 27,825.61, with all the sectoral indices led by power, PSU and banking trading in positive zone with gains up to 1.10 per cent.
The barometer had gained 298.93 points in the previous five sessions.
The wide-based Nifty of the National Stock Exchange regained the crucial 8,300-mark by surging over 94.65 points, or 1.14 per cent to 8,378.65.
Brokers said continued buying by funds as well as retail investors, following push up in economic reforms by the government influenced the trading sentiment.
Major gainers which supported the benchmark were HDFC (1.79 per cent), ONGC (1.63 per cent), BHEL (1.60 per cent), ICICI Bank (1.49 per cent), NTPC (1.26 per cent), Axis Bank (1.16 per cent) and Infosys (0.72 per cent).
Gains of up to 1.5 per cent in Reliance, Tata Motors, HDFC Bank and ITC also supported the Sensex rise.
Among Asian markets, Hong Kong's Hang Seng rose by 0.78 per cent, while Japan's Nikkei fell 1.57 per cent in early trade today.