Sensex moves up for second day, gains only 85 points
Mumbai, July 5: A benchmark index of Indian equities markets rose for a second consecutive day Friday, but gaining just 85 points.Riding on improved sentiments, good buying was observed in oil and gas, fast moving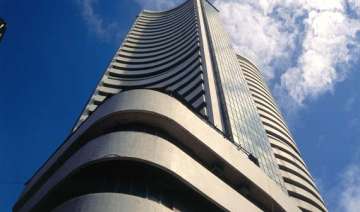 IANS
July 05, 2013 17:38 IST
Mumbai, July 5:
A benchmark index of Indian equities markets rose for a second consecutive day Friday, but gaining just 85 points.
Riding on improved sentiments, good buying was observed in oil and gas, fast moving consumer goods (FMCG), metal and capital goods; while selling pressure was seen in IT and technology, media and entertainment (TECK) sectors.
The 30-scrip sensitive index (Sensex) of the S&P Bombay Stock Exchange (BSE), which opened at 19,568.79 points, closed at 19,495.82 points, up 84.98 points or 0.44 percent from the previous day's close at 19,410.84 points.
The Sensex touched a high of 19,640.27 points and a low of 19,477.74 points intra-day.
The wider 50-scrip Nifty of the National Stock Exchange (NSE) ended 0.53 percent or 30.95 points up at 5,867.90 points.
The S&P BSE oil and gas index surged by 130.54 points, FMCG index went up by 60.54 points, metal index inched up by 46.95 points and capital goods index increased by 44.92 points. But IT index dipped by 17.96 points and TECK index slipped by 20.12 points.
The major Sensex gainers were: Jindal Steel, up 3.51 percent at Rs.223.90; ONGC, up 2.25 percent at Rs.315.45; Reliance Industries Limited, up 2.15 percent at Rs.880.20; Bharat Heavy Electricals Limited, up 1.83 percent at Rs.178.50; HDFC Bank, up 1.53 percent at Rs.665.45; and Hindustan Unilever, up 1.40 percent at Rs.609.15.
The major losers were: Gail India, down 2.05 percent at Rs.325.70; Bharti Airtel, down 1.89 percent at Rs.295.55; and Mahindra and Mahindra, down 1.40 percent at Rs.967.95.
Among the Asian markets, Nikkei went up by 2.08 percent; Hang Seng moved up by 1.89 percent, Shanghai Composite Index inched up by 0.05 percent, while KOSPI dipped by 0.32 percent.
In Europe, the FTSE 100 was trading 0.45 percent up; while Germany's DAX Index was down by 0.23 percent and French CAC 40 Index was down by 0.10 percent.