Siddhi Vinayak Logistic enters into Limca Book of Records 2015
Mumbai: Siddhi Vinayak Logistic Ltd (SVLL), a leading corporate logistic service provider in the country, was recently announced as the highest fleet owners in India by the Limca Book of Records 2015. As of April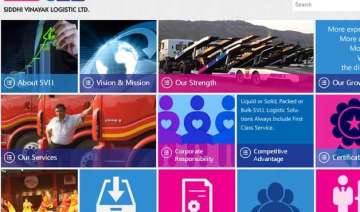 India TV News Desk
April 07, 2015 16:09 IST
Mumbai: Siddhi Vinayak Logistic Ltd (SVLL), a leading corporate logistic service provider in the country, was recently announced as the highest fleet owners in India by the Limca Book of Records 2015. As of April 16, 2014, SVLL has a fleet size of 6,737 heavy and medium commercial vehicles.
SVLL provides a comprehensive network with companies in around every state of India.
"We are proud to be registered with Limca Book of Records 2015. It has always been our constant endeavor to deliver and work towards better road transportation. We believe the key to progress lies in the overall upliftment of our drivers, who form the basic foundation of the logistics industry," said Deepak Baid, Director, Siddhi Vinayak Logistic.