Snapdeal eyes 500 crore in the first year of its TV channel launch
New Delhi: Country's one of the largest e-tailers, Snapdeal, is all set to amass Rs 500 crore from its TV commerce channel in the very first year of its inception.The TV channel, DEN Snapdeal TV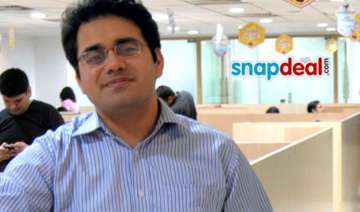 India TV Business Desk
January 21, 2015 15:07 IST
New Delhi: Country's one of the largest e-tailers, Snapdeal, is all set to amass Rs 500 crore from its TV commerce channel in the very first year of its inception.
The TV channel, DEN Snapdeal TV Shop, is a 50:50 joint venture between Snapdeal and cable distribution company, DEN Networks. It is currently labeled under Macro Commerce Private Limited.
Kunal Bahl, the co-founder and CEO of Snapdeal, told  Times of India, "It had taken us around three years to reach Rs 500 crore through our online business. In comparison, our TV channel is set to touch a similar figure in just one year. Television-commerce can be the next vector of growth for e-commerce."
Bahl is optimistic about the television's penetration power. He exclaims that it is a better media to reach tier II and III cities where access to internet services is limited.
Asked if he was doubtful of the move, he stated, "Sales of TVs are growing here and will continue to do so for some time in contrast to the situation in the US where growth of sales of TV sets has stagnated due to smart devices."
"So, if you have to reach people such as, elders in the family, who are not used to shopping on smartphones, TV is a great option," he added.
The e-tailer giant is using DEN as its brand ambassador, the latter having a customer base of around 13 million households in over 200 cities across the country.
By the end of year, it is also eyeing other networks to reach the low income households in slums and villages too.
He further mentioned a need for the e-tailers to start thinking beyond the regular as something new in future can render online retailing irrelevant which will be a huge setback to the entire industry.