Sony SmartWatch 3 and SmartBand Talk now available in India
New Delhi: Sony has launched its SmartWatch 3 and SmartBand Talk wearables in India for Rs 19,990 and Rs 12,990, respectively.Both these devices connect with Sony's Lifelog, an app that allows users to track their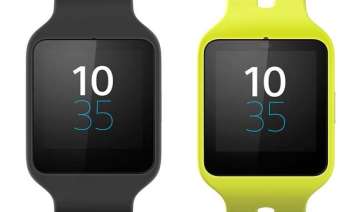 PTI
January 19, 2015 18:03 IST
New Delhi: Sony has launched its SmartWatch 3 and SmartBand Talk wearables in India for Rs 19,990 and Rs 12,990, respectively.
Both these devices connect with Sony's Lifelog, an app that allows users to track their health, lifestyle patterns and smartphone usage.
SmartWatch 3 comes with a 1.6-inch 320x320 TFT LCD Transflective display for visibility in bright sunlight, set within a stainless steel back panel. It is waterproof, rated IP68ΐ] and charges via a standard microUSB port.
 
It offers 4GB of internal storage, and allows users to store music and connects with a Bluetooth headset. Powered by Google's Android Wear, the smartwatch is equipped with Google's voice recognition service and can perform simple tasks including checking email, sending text messages and carrying out an online search at users' voice command.
SmartBand Talk is priced at Rs 12,990 and features a short call function helping users to talk into it and hear the caller. It also features built-in microphone and speaker, and sports HD voice support.
Both the smart devices come in black colour and are available at Sony Centre and major electronic stores across India.