SpiceJet mulls laying off 1,000 employees
New Delhi: Beleaguered low-cost carrier SpiceJet is likely to lay off about 1,000 employees in the next few weeks to control costs, a Business Standard report suggests. The overall staff count of SpiceJet is about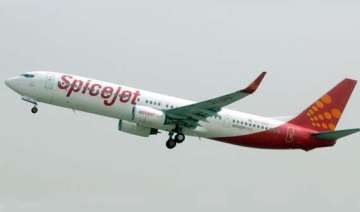 India TV Business Desk
January 13, 2015 11:45 IST
New Delhi: Beleaguered low-cost carrier SpiceJet is likely to lay off about 1,000 employees in the next few weeks to control costs, a Business Standard report suggests. The overall staff count of SpiceJet is about 5,000.
Earlier the low-cost carrier has asked about 60 pilots who had put in their papers in October-November 2014, to leave, without waiting for the six-month notice period to run its course.
The airline, awaiting investment from a consortium led by founder-promoter Ajay Singh, has accumulated huge losses as a result of daily operational costs. Accumulated losses stand at about Rs 3,000 crore and liabilities about Rs 1,400 crore, including about Rs 200 crore to Airports Authority of India.
Earlier reports suggested that SpiceJet and an investor consortium led by Ajay Singh will seal a deal by the end of January under which the airline's majority owner Kalanithi Maran may sell his entire stake.
Singh and SpiceJet management representatives have reportedly met officials of the civil aviation ministry to seek more time to tide over the crisis till its investment requirements are met.