SpiceJet quarterly net profit hits air pocket, falls 10%
New Delhi, Aug 5: Low-cost airline SpiceJet today reported a 10 per cent decline in net profit at Rs 50.55 crore for the first quarter ended June 30, 2013.The company had clocked a net profit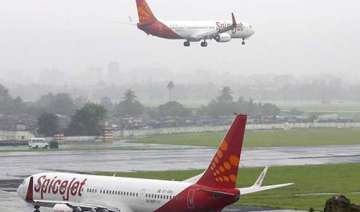 PTI
August 05, 2013 18:20 IST
New Delhi, Aug 5:
Low-cost airline SpiceJet today reported a 10 per cent decline in net profit at Rs 50.55 crore for the first quarter ended June 30, 2013.
The company had clocked a net profit of Rs 56.15 crore in the year-ago period, SpiceJet said in a filing to the BSE.
Total income from operations however, increased to Rs 1,704.30 crore in the April-June quarter from Rs 1,466.69 crore during the same period last year, it said.
The overall performance should be considered satisfactory and has to be viewed in the context of several adverse circumstances that continue to make the business environment for the airline industry extremely challenging, the company added.
Notwithstanding the several headwinds in the form of weak rupee and high cost of fuel, the management has executed with an emphasis on efficiency, elimination of waste and profitability.
Fuel cost as a proportion fell to 43 per cent of the total revenue in the current quarter as against 46 per cent in the comparable quarter for the previous year, mainly due to better realisations from our overseas routes that now make up almost 11 per cent of revenues, it said.
However, currency depreciation and higher crude prices continue to exert pressure on margins, SpiceJet noted.
Shares of the company were trading 1.94 per cent higher at Rs 26.25 on the BSE in afternoon trade.