Sterlite Technologies Q3 profit jumps over four-fold
New Delhi: Domestic optical fibre maker Sterlite Technologies has posted over four-fold jump in standalone profit after tax at Rs 23.06 crore in the quarter ended December 31, 2014 due to high demand for its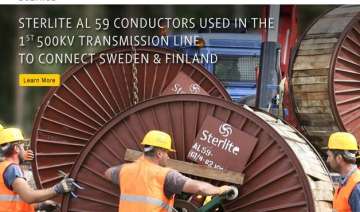 PTI
January 23, 2015 12:10 IST
New Delhi: Domestic optical fibre maker Sterlite Technologies has posted over four-fold jump in standalone profit after tax at Rs 23.06 crore in the quarter ended December 31, 2014 due to high demand for its products from various telecom and power infrastructure projects.
The company had posted a profit of Rs 5.42 crore in the same quarter a year ago.
"Culmination of demand, market visibility across India and China have fueled our business. Our operations in both the countries are running in full scale. We have just started ramping up our capacities," Sterlite Technologies CEO Anand Agarwal said.
He said that current order book for the company at Rs 4,700 crore represents an increase of almost 80 per cent to its order book levels a year back.
The order book includes Rs 2,300-crore worth projects from telecom sector and Rs 2,400 crore from power sector.
"Out of the total, Rs 3,200 crore worth orders are from India and Rs 1,500 crore orders for exports," Agarwal said.
"We have increased production capacity of optical fibres to 20 million kilometers per annum from 12 million kilometers a year ago," Agarwal said.
Sterlite also announced expansion of optical cabling capacity from 8 million km to 15 million km in the light of growing opportunities in optical fiber industry.
The standalone total income of the company grew by 31.5 per cent in the reported quarter to Rs 894.53 crore from Rs 679.79 crore its posted in corresponding period last fiscal.
"In China Fibre-to-the-Home (FTTH) has been driving demand. In India there is ... 4G network coming up, work on Defence network and national optical fibre network," Agarwal said.
With increased traction in India market demand for optical fiber cable, he said that Sterlite has seen a significant jump of 56 per cent on a quarterly basis in its optical fiber cable volumes.
"This quarter also marked the start of revenues from our recently won Network For Spectrum (communication network for Defence being built by BSNL) project," Agarwal said.
Telecom products and solutions business revenues were at Rs 412 crore. The power products and solutions business revenues stood at Rs 461 crore. Shares of the company closed at Rs 67.65, up by 7.89 per cent over previous close, at BSE.