Tata Motors Expects Subdued Growth Until Middle Of Next FY
Hyderabad, Jan 20: Tata Motors, India's largest automobile company, expects a subdued growth until the middle of the next financial year, said a senior official.R Ramakrishnan, Vice President (Commercial) Passenger Cars, Tata Motors, said there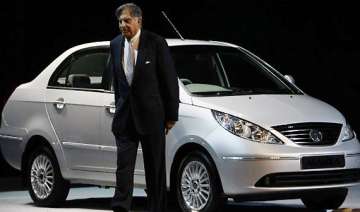 PTI
January 20, 2012 18:29 IST
Hyderabad, Jan 20: Tata Motors, India's largest automobile company, expects a subdued growth until the middle of the next financial year, said a senior official.

R Ramakrishnan, Vice President (Commercial) Passenger Cars, Tata Motors, said there was no revision of strategy for pushing Nano sales up; the existing campaign was a success.

"As we see it today, it is going to be subdued for some more months. It would start picking up in the second half. So (if) that will take us to the double-digit growth is anybody's guess," Ramakrishnan told reporters here when asked whether the company expects double-digit growth next fiscal.

He said the growth of the economy was subdued compared to the projections, and hence the sales did not grow as expected.

Cumulative sales (including exports) of the company in the current fiscal are 6,26,770 vehicles, a growth of 11 per cent over 5,67,004 last year.

According to Society of Indian Automobile Manufacturers, passenger vehicles segment grew marginally at 0.49 per cent during April-December 2011. Passenger Cars recorded de-growth of (-) 2.28 percent, Utility Vehicles grew by 12.67 percent and Vans grew by 7.72 percent in this period.

However, the overall Passenger Vehicles growth was 8.85 per cent in December 2011.

Ramakrishnan said a lot will depend on the RBI's monetary policy review of January 24. If there is an interest rate cut then people will wait for some more cuts to happen before deciding to buy a vehicle.

"If the rate goes down in stages, people will wait for three or four stages before they start purchase," he said.

Replying to query, he said as per the strategy, the company is expanding dealership network for Nano in semi-urban and rural areas.

"The low down payment scheme is highly successful. With Rs 15,000, somebody can buy a car which is a main attraction now. There is no change in strategy," he explained.

According to him, the company has 250  full range dealerships and 105 exclusive outlets for Nano, and 29 dealers for utility vehicles.

Tata Motors today announced the inauguration of four new outlets in Hyderabad, commissioned by Tejaswi Motors.