Tata Power will rethink investment plans if rupee slide continues: Sardana
Mumbai: Private sector utility Tata Power on Friday said it may re-look at its investment plans going forward if the rupee continuous to depreciate at the current rate."If the rupee slide continues we will have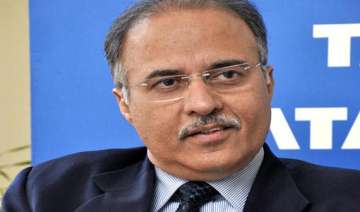 PTI
August 17, 2013 6:52 IST
Mumbai:
Private sector utility Tata Power on Friday said it may re-look at its investment plans going forward if the rupee continuous to depreciate at the current rate.
"If the rupee slide continues we will have to go back on drawing board and rethink about our investments," company's managing director Anil Sardana told reporters on the sidelines of its 94th Annual General Meeting here.
He said the expansion plans of the company largely depend on the Mundra issues (pertaining imported coal prices) because that impacts the cash.
"In the last two quarters, a lot of impairment happened (on Mundra project), which was non-cash and therefore one felt that the (expansion) programs will continue. But  the last quarter, we found that because of the exchange rate we got into a cash loss and therefore, we will have to re-look at investment plans," he said.
He said that since there was no clarity on the availability of (domestic) fuel, the company had started to invest in the international market.
"... Because we did not have clarity on fuel, we had started to commit more capital investment in international market and I am happy that those projects moved so fast we were surprised ourselves. Within a span of a year, there was progress on the 400 MW hydro project in Georgia," he said.
Sardana further said, "This progress should give us bullish orientation to invest outside India. However, if the rupee slide-down continues, we will have to rethink about our investment plans."
He, however, noted that investments in the 4000 MW Mundra ultra mega power project, which continues to operate, will need more finances than earlier it had made.
The project, implemented by Coastal Gujarat Power (CGPL), was fully commissioned in the last fiscal.
However, Tata Power suffered a net loss of Rs 114.7 crore in the first quarter of FY 2014 to Rs 145.93 crore in Q1 FY 2013 mainly due to higher forex loss on realignment of liabilities due to weakening of rupee and higher finance cost related to Mundra project.
Sardana also said that it will be difficult for servicing its debts due to weakening of rupee. "We have an exposure to the tune of USD 1.4 billion on the Mundra project. Servicing will be challeging...Cost of hedging will be a problem. It will be tough to hedge against head winds," he said.
He added that this cost has to ultimately translate into tariff. "Already the customers are vexed...There will be pressure to the whole cycle," he added.
Earlier, company's chairman Cyrus Mistry told shareholders that Tata Power will invest Rs 1,200 crore in the current fiscal.