Tata Sky launches 4K set top box in India
New Delhi: Tata Sky, Direct-To-Home (DTH) operator has launched a new 4K set top box (STB) in India. 4K resolution is the visual content having horizontal resolution on the order of 4,000 pixels which is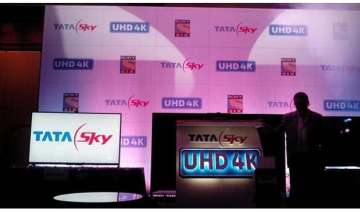 India TV News Desk
January 11, 2015 17:08 IST
New Delhi: Tata Sky, Direct-To-Home (DTH) operator has launched a new 4K set top box (STB) in India. 4K resolution is the visual content having horizontal resolution on the order of 4,000 pixels which is greater than UHD (Ultra High Definition) A 4K television set has a resolution of industry standard 4096 x 2160 pixels (at a 19:10 or 1.9:1 aspect ratio), whereas a UHD TV has 3840 x 2160 pixel resolution at 16:9 aspect ratio.
The set top box will be available for existing and new subscribers to enjoy the forthcoming cricket matches in ultra HD 4K picture clarity.
The company says subscribers can enjoy the 4K device as their first connection or an additional STB at home with the Tata Sky multi-TV connection option. Apart from its 4K content, the box will also showcase Standard Definition (SD) and High Definition (HD) channels.
With the ICC Cricket World cup beginning next month, the time is ripe for Tata Sky to capitalise on the 4K frenzy. This will ensure that cricket and sports enthusiasts are well in time to own Tata Sky 4k STBs to witness the cricketing extravaganza for the first time in 4K picture quality.
The 4K Set Top Box is being offered at a price of Rs. 6,400 for new subscribers, whereas the existing subscribers can own the box for Rs. 5,900. The devices can be pre-booked through the Tata Sky 24X7 helpline, Tata Sky website and dealers.