Tata Steel surges over 30% in 6 days
Mumbai: Shares of Tata Steel have seen a sharp surge in the past six days following a healthy result for the quarter ended June 2013. The company's net profit surged 90.5 per cent to over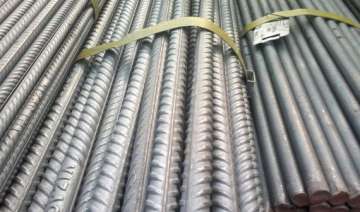 India TV Business Desk
August 14, 2013 10:35 IST
Mumbai:
Shares of Tata Steel have seen a sharp surge in the past six days following a healthy result for the quarter ended June 2013. The company's net profit surged 90.5 per cent to over Rs 1,100 crore for the quarter ended June 2013 as compared to a net profit of Rs 598 crore in the corresponding quarter last fiscal.
The company's EBITDA/tonne of Steel in India was at $258/tonne and for Europe it was at $43/tonne.
Stock of Tata Steel climbed 6.45% to Rs 256.70 in early trade on Wednesday.
The steel major's margin also rose to 11.5 per cent as against 10.6 per cent in the same period a year ago.